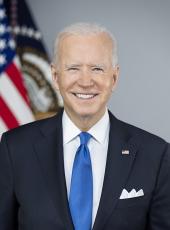 Remarks in an Exchange With Reporters Following a Meeting With Ukrainian Refugees in Warsaw, Poland
Russia
Q. Mr. President, what do you think about Russia changing its strategy?
The President. I'm not sure they have.
The President's Visit With Ukrainian Refugees
Q. And what's the impact of this on you, Mr. President? Tell us about what you saw.
The President. Look, I've been to an awful lot of places like this with a lot of refugee camps in my life. And what I never—I'm always surprised by is the depth and strength of the human spirit. I mean it sincerely. And they're—it's incredible. It's incredible.
You see all those little children? Just wanted to—just want a hug. They just want to say thanks. I mean, they're—I mean, it's—it just makes you so damn proud. And they're wonderful, wonderful, wonderful.
And you know, the Ukrainian people are—each one of those children said something to the effect, "Say a prayer for my dad, for my grandfather, for my brother—he's back there fighting." And I remember what it's like when you have someone in a war zone. And every morning, you get up, and you wonder. You just wonder. You pray you don't get that phone call. And they're an amazing group of people.
Q. What are you going to do—[inaudible]—Mr. President?
Q. What do you make of——
Q. How does this make you think of what Putin is——
Ukraine
Q. How do you get into some of these cities like Mariupol that's got—you know, that's got nothing? They've got no water.
The President. Oh, they've got nothing. I met two people from Mariupol. It's—it's astounding.
Q. What were the commitments with Ukraine?
President Vladimir Vladimirovich Putin of Russia
Q. What is this—I mean, you see this in your—you know, you're dealing every day with Vladimir Putin. I mean, look at what he's done to these people. What does it make you think?
The President. He's a butcher. That's what it makes me think.
Q. Did you make additional commitments on Ukraine?
NOTE: The President spoke at 3:29 p.m. at the PGE Narodowy Stadium.
Joseph R. Biden, Remarks in an Exchange With Reporters Following a Meeting With Ukrainian Refugees in Warsaw, Poland Online by Gerhard Peters and John T. Woolley, The American Presidency Project https://www.presidency.ucsb.edu/node/355100