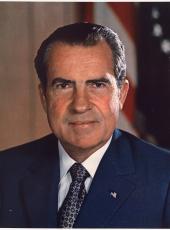 Remarks to Employees at the Post Office Department.
Mr. postmaster General, ladies and gentlemen:
From the enthusiasm of your welcome I gather that you probably assume, as a result of the announcement we made yesterday with regard to taking politics out of the appointment of postmasters, that we were going to apply that also to the Postmaster General and that anybody could go up.
But I just do want to say this: that I am very delighted to be here in this Department, one of the oldest, if not the oldest, in terms of its service to the Nation, to this whole country, and one of the most vital, as I will indicate in the remarks that I shall make.
I also should say a word about the Postmaster General. In checking his background before coming over here, I found that he was the first Cabinet officer from the State of Alabama in 72 years.
In view of his record to date, his courage, and his ability to sell this historic decision that we announced at the White House yesterday, I think he is going to be one of the best Cabinet officers in 72 years as Postmaster General.
I got him to take this position only by giving him the assurance that I would back him in the objective of seeing that this Nation had the best postal service in the world.
We all know that we have thousands of dedicated people in the postal service. Except for the few that I have been responsible for appointing, with the approval of the Postmaster General, this room is primarily filled with people who have given their lives to that service.
I know that you are proud of that service. I know that you have been concerned, as I have been concerned and most Americans have been concerned, about the deterioration in service, deterioration which probably was the result of many factors--the growth in population, the increasing costs, morale factors, and the rest.
But I know, too, that when I consider the quality of the people in the career service at the highest levels in this Department, when I consider the thousands of people in the ranks across this country, I know that there is a sense of dedication and purpose which, if only we give the right leadership at the top and the right backing at the top, we can deal with these problems and see that the American people have better postal service so that we can be proud of what we do here and can have that as an example to the world. We want nothing less than that as far as this postal service is concerned.
We therefore need your cooperation. We need your assistance.
I want to say something now, particularly to the Postmaster General, his Deputy, and the Assistants who are here who are appointees of this administration. I want to make it very clear that the men at the top do make a difference, and each administration appoints its own men at the top.
But I also want to make it equally clear that without the cooperation and the support of the career men and women, such as the men and women in this room, it just isn't possible for the men at the top to cant out their mission.
That is why I am visiting every department of Government. That is why I am making it very clear that while I have every confidence in the men and women that I have appointed to top positions, we need the support of the career service.
I believe in the career service. I know many who have given their lives to Government, who came into Government at an early age, who have not had the financial remuneration they might have had in some other activity, but who came into Government because they wanted that kind of life and also wanted particularly that opportunity to serve.
I feel that there is an opportunity, an opportunity for all of us in this new administration to inspire a new sense of dedication and purpose among those who are in the career service in the Post Office Department and in the other departments of the Government.
In bringing this message to you, I just want to assure you that I am aware of the fact that if we succeed, it will be because of what you do. I am aware of the fact that if we don't succeed, it may be our own failure. But it also may be due to the fact that we have failed to justify the support of those who are in the career service and who are so essential to seeing to it that any department is run properly.
So, with this visit I am simply trying to underline the conviction that I have that every one of us ought to be proud to be working in the position that we have in the Federal Government.
I think the idea that there is just a little difference if you are in the private sector, that that is a little better than being in Government service, or so on down the line or either way, either approach is wrong, because in our great country, what makes it great is the fact that we have some people who prefer going into private enterprise, others who prefer to go into Government work.
What I wish to make clear is that having spent perhaps most of my adult life in Government rather than in private enterprise, I am proud of my Government service. I am also aware of the fact that there are thousands of people in this Department and millions across the Nation in Government service who can hold their own with anybody in the private sector. That is the way it should be and that is the way we want it to be in this administration.
One final point I would make is that this is going to be a period of change in this Department. We are not going to be able to meet our mission--the mission that I have supported and that the Postmaster General has set--without making some changes.
Some of these changes are going to be difficult. They are going to be difficult politically for us to get across, just like the announcement that was made yesterday. It is always easy when a party is out of power for it to say, "Take politics out of the appointments in the Post Office Department." But when the party in power gives it up, believe me, that is rather hard, as we learned in that meeting we had with the legislative leaders yesterday.
But we have taken the first step. Now we ask your cooperation in helping us to take the other steps that are necessary, steps that may not be a continuation of doing it the way we have always done it, steps that may require a change in personnel policy, steps that may require new policies insofar as automation and a number of other areas that you people are more familiar with than I am.
I am simply saying this: I believe we have in the Postmaster General and his associates a group of dedicated men who are determined to give us the best postal service in the world. I know that in the group in this room you want exactly that and that you will work toward that end.
We have backed and we will continue to back you. We just hope that you will give our group here the same kind of loyalty that they have given to you and will continue to give to you.
Finally, one personal note, in this room are only the leaders. I understand, Red, we have only 150 in this room, the top officials of this great Department. I realize that you represent and that you supervise approximately 750,000.
I would hope that as you talk to the people that you supervise, the word could get down the line, down the line for example, to that underpaid man whom Red Blount spoke to us about the other day who works in a great city and starts at $6,000 a year; if he went to the Sanitation Department, he could get $10,000 a year. Let them know that we in Washington appreciate what they are doing. Let them know that we back them. Let them know that better days are coming. Let them know that we recognize that without their help and their assistance, we cannot do the job that we want to do.
I would hope that when I finish my term in office that we could look back, as far as this Department is concerned, and say that we looked at the problems in the beginning, we examined them fairly in a nonpartisan way, we dealt with them, we had some morale problems up and down the line when we began, but when we finished, every man and woman in this Department, right down to that individual who works as a clerk or a mail carrier at the lowest salary range, that every man was as proud of being in the postal service as men and women were proud to be in that service when Ben Franklin began it before this country became a country.
Thank you very much.
Note: The President spoke at 2:17 p.m. at the Post Office Department. His remarks were broadcast on closed circuit television to employees throughout the Nation.
Richard Nixon, Remarks to Employees at the Post Office Department. Online by Gerhard Peters and John T. Woolley, The American Presidency Project https://www.presidency.ucsb.edu/node/239634