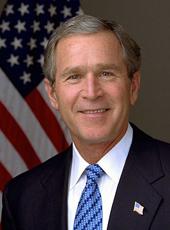 Remarks at a Cinco de Mayo Celebration
Thank you. Please be seated. Bienvenidos. Welcome to the White House. I'm honored to have so many distinguished Hispanic and Mexican American leaders here for the Cinco de Mayo celebration. You may have noticed this celebration is not on the cinco de Mayo—[laughter]—it's on the quatro de Mayo. [Laughter] It's such an important holiday, we thought we would start early. [Laughter]
I appreciate Hector; good to see you— head of the SBA is with us today. Gaddi Vasquez, thank you for coming. Thank you both for bringing—thank you for bringing your wife, Hector. I want to thank Anna Cabral, who is the Treasurer, and glad you brought Victor. Thanks for coming.
I appreciate the Ambassadors who have joined us. Ambassador de Mexico is with us today—Embajador, gracias—y tambien, mi amigo, the Ambassador from the United States to Mexico, Antonio Garza. Welcome you both. Glad you're here. I appreciate Eduardo Aguirre, Ambassador to Spain. Thank you for coming, Eduardo—Hans Hertell, the Ambassador to the Dominican Republic. Thank you all very much for coming. Thanks for serving the country, and thanks for serving your country, Ambassador, as well.
I appreciate the military personnel who are here today. We're proud of you. Thanks for wearing the uniform of the United States of America.
Before I introduce our entertainer, I do want to share some thoughts with you about the importance of Cinco de Mayo, for it commemorates a joyful moment in Mexican history. Americans must understand that it was a time when Mexican soldiers won the Battle of Puebla and defended their independence. So obviously, Cinco de Mayo is a day of special pride for citizens of Mexico, but it is, as well, for Americans. It is a reminder of a proud heritage we share with our neighbor to the south. That's how I view the day.
We pay tribute to that heritage, and we honor the warmth and importance of the friendship between our two nations. The United States and Mexico are united by ties of family and by commerce and by history and by culture and by values. Both nations believe in the rights and the dignity of all people. We share an important trade relationship. We have discovered that trade between our nations is good for our peoples. We believe in the ideals of freedom and independence that Cinco de Mayo represents.
Here in the United States, Mexican Americans have helped build our country and helped shape our culture. Mexican Americans have made our Nation more vibrant and more hopeful cada dia. Mexican Americans have enriched the American experience with contributions to business and the arts and music and sports. Latino entrepreneurs are creating jobs across the country; the number of Hispanic-owned businesses is growing at three times the national rate. More Hispanic Americans own their homes than ever before in our Nation's history.
Many Mexican Americans have also shown their devotion to this country by defending it. More than 600,000 of our veterans are of Mexican descent. I see some of our veterans back—I'm sure—we got a lot of veterans here, as a matter of fact. I want to thank you for setting such a good example for those who wear the uniform today.
Many Mexican Americans are wearing the uniform of the United States military, and they're defending our country with valor. They're making America more secure and, at the same time, laying the foundation of peace for generations to come.
I know our citizens have enormous pride in the Mexican heritage, and rightly so. We also know that America has thrived as a nation because we've always welcomed newcomers who, in turn, embrace our values and our way of life. Becoming an American is a great privilege, and it carries with it responsibilities. Those who come here to start new lives in our country have a responsibility to understand what America is about and the responsibility to learn the English language so they can better understand our national character and participate fully in American life. That's what we want. Making this effort is also key to unlocking the opportunities of America, allowing new folks to rise in society and realize the American Dream.
In this country, we're now having an important debate about immigration. And it is really important that we discuss this issue in a way that is worthy of this country's best traditions. Our Nation does not have to choose between being a compassionate society and a lawful society. A lawful society is one that enforces its laws and enforces its border; that's what a lawful society does. A compassionate society rejects a system that treats people as if they're something to be traded, honors human rights and human dignity, helps people out of the shadows of society, treats people in a decent and humane way.
So I support strengthening our borders, and I support a temporary-worker program that would match willing workers with American employers. See, I think we need to create a secure and legal channel for people to come to this country to work. It will reduce the number of people trying to sneak across our border. It will treat people humanely. It will get rid of the coyotes and the document forgers. It will affirm our belief that every person has got dignity and every person has got value, and at the same time, it will make it easier for us to be a nation of law and to protect our border.
Immigration reform needs to be comprehensive because all elements of this problem must be addressed together, or none of them will be solved at all. The American people must conduct this debate with dignity. They must remember that we're a nation of immigrants. They must understand—they must remember that throughout our history, people have come to America because this is a place where they can pursue their dreams no matter who they are or where they're from.
Mexican Americans have brought with them a culture based upon faith in God, a deep love for family, and a belief that hard work leads to a better life. Every immigrant who lives by these values makes the United States a better country, makes our future brighter as one nation under God.
Across America tomorrow, there will be many celebrations of Cinco de Mayo. The performances we're going to see today represent some of the very fine talent. It reminds us that we're a nation that is strong because of our diversity. There's going to be a lot of traditional music, a lot of pretty good Mexican food too, I bet you. [Laughter] Kind of reminds us of Texas, doesn't it, Ambassador?
May God continue to bless all of us who are fortunate enough to live in this land, and may God continue to bless our country and the many sons and daughters of Mexico who call our Nation home. Happy Cinco de Mayo. And now it is my pleasure to introduce one of Mexico's great talents, Graciela Beltran.
NOTE: The President spoke at 1:57 p.m. in the East Room at the White House. In his remarks, he referred to Robin Barreto, wife of Small Business Administration Administrator Hector V. Barreto, Jr.; Victor G. Cabral, husband of Treasurer of the United States Anna Escobedo Cabral; Mexico's Ambassador to the U.S. Carlos Alberto de Icaza Gonzalez; and entertainer Graciela Beltran of Mexico. The Office of the Press Secretary also released a Spanish language transcript of these remarks.
George W. Bush, Remarks at a Cinco de Mayo Celebration Online by Gerhard Peters and John T. Woolley, The American Presidency Project https://www.presidency.ucsb.edu/node/215360