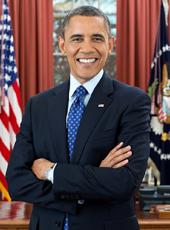 Remarks in Chicago Announcing Nominations for the Departments of Labor, Transportation, United States Trade Representative, and Small Business Administration
Good afternoon.
Before we begin, I'd like to say a few words about the necessary step taken today to help avoid a collapse in our auto industry that would have devastating consequences for our economy and our workers. With the short-term assistance provided by this package, the auto companies must bring all their stakeholders together – including labor, dealers, creditors and suppliers – to make the hard choices necessary to achieve long-term viability. The auto companies must not squander this chance to reform bad management practices and begin the long-term restructuring that is absolutely necessary to save this critical industry and the millions of American jobs that depend on it, while also creating the fuel-efficient cars of the future.
Whenever I have been asked how I measure the strength of the American economy, my answer is simple: jobs and wages. I know we will be headed in the right direction again when we are creating jobs, instead of losing them, and when Americans are gaining ground in terms of their incomes, instead of treading water or falling behind. In recent weeks, I've announced members of my economic team who will help us make progress in these areas.
Today, I'm announcing several other appointees who will play an integral role in our efforts to turn our economy around: Congresswoman Hilda Solis as Secretary of Labor; former Congressman Ray LaHood as Secretary of Transportation; Karen Mills as Administrator of the Small Business Administration; and Mayor Ron Kirk as United States Trade Representative. Together with the appointees I've already announced, these leaders will help craft a 21st Century Economic Recovery Plan, with the goal of creating two and a half million new jobs and strengthening our economy for the future.
If jobs and incomes are our yardsticks, then the success of the American worker is key to the success of the American economy. For the past eight years, the Department of Labor has not lived up to its role either as an advocate for hardworking families or as an arbiter of fairness in relations between labor and management. That will change when Hilda Solis is Secretary of Labor. Under her leadership, I am confident that the Department of Labor will once again stand up for working families.
Hilda has always been an advocate for everyday people. When she received an award several years ago, she said, "Fighting for what is just is not always popular, but it is necessary." And that is exactly what she has done throughout her career, blazing new trails every step of the way. Whether it's creating green jobs that pay well and can't be outsourced or expanding access to affordable health care or raising the minimum wage in California, Hilda has been a champion of our middle class. And I know that Hilda will show the same kind of leadership as Secretary of Labor that she showed in California and on the Education and Labor Committee by protecting workers' rights – from organizing to collective bargaining, from keeping our workplaces safe to making our unions strong.
Standing up for our workers means putting them back to work and fueling economic growth. Our economy boomed in the 20th Century when President Eisenhower remade the American landscape by building the interstate highway system. Now we need to remake our transportation system for the 21st Century. Doing so will not only help us meet our energy challenge by building more efficient cars, buses, and subways or make Americans safer by rebuilding our crumbling roads and bridges – it will create millions of new jobs in the process.
Few understand our infrastructure challenge better than the outstanding public servant I am asking to lead the Department of Transportation – Ray LaHood. As a Congressman from Illinois, Ray served six years on the Transportation and Infrastructure Committee, leading efforts to modernize our aviation system by renewing our aging airports and ensuring that air traffic controllers were using cutting edge technology. Throughout his career, Ray has fought to improve mass transit and invest in our highways. But he has not only helped rebuild our landscape, he has helped beautify it by creating opportunities for bikers and runners to enjoy our great outdoors. When I began this appointment process, I said I was committed to finding the best person for the job, regardless of party. Ray's appointment reflects that bipartisan spirit – a spirit we need to reclaim in this country to make progress for the American people.
To strengthen our economy, we must also strengthen the small businesses that are its backbone. I can think of no one better to lead this effort as Administrator of the Small Business Administration than Karen Mills. With Karen at the helm, America's small businesses will have a partner in Washington, helping them create jobs and spur growth in communities across this country. A venture capitalist who invests in small businesses, Karen understands the challenges faced by both small business owners and the workers they employ. With a background in the private sector and experience helping Maine's governor promote growth across the state, I am confident that Karen will lead an SBA that will not only help small business owners realize their dreams, but help our nation rebuild our economy.
We also know that the success of American businesses, small and large, depends on their ability to sell their products across the globe. That is why we must engage in strong, robust trade and open doors for American products. In our global economy, we must compete and win if we are going to strengthen our middle class and forge bonds with other nations that can contribute to peace and stability around the world. But I also believe that any trade agreement we sign must be written not just with the interests of big corporations in mind, but with the interests of our whole nation and our workers at heart.
Ron Kirk understands this better than just about anyone. As Mayor of Dallas, Ron helped steer one of the world's largest economies. He has seen the promise of trade, but also its pitfalls. And he knows there is nothing inconsistent about standing up for free trade and standing up for American workers. During his tenure as Mayor, Ron brought different groups together to create jobs, invest in the community, and spur economic growth. As a leader, negotiator, and principled proponent of trade, Ron will help make sure that any agreements I sign as President protect the rights of all workers, promote the interests of all Americans, and preserve the planet we all share.
With these outstanding appointees, I have filled out our economic team, and done so at an earlier point than any President in history, because we face challenges unlike any we have faced in generations.
Daunting as the challenges we are inheriting may be, I'm convinced that our team and the American people are prepared to meet them. It will take longer than any of us would like – years, and not months. It will get worse before it gets better. But it will get better – if we're willing to act boldly and swiftly. And that is what we will do when I am President of the United States.
Barack Obama, Remarks in Chicago Announcing Nominations for the Departments of Labor, Transportation, United States Trade Representative, and Small Business Administration Online by Gerhard Peters and John T. Woolley, The American Presidency Project https://www.presidency.ucsb.edu/node/285365