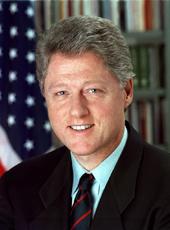 Remarks at an Arkansas Victory '98 Dinner in Little Rock
Thank you. Well, first of all, like all of you, I want to thank Maurice and Betty for once again being there for all of us and having us in their home, giving us a view of the river. I'm trying to get accustomed to it. In a couple of years, I'm going to have a library about a mile down the road there, and I'm going to be looking up this river, just like all the rest of you. I also want to thank Vaughn for being willing to come in here and go to work for our party and give us some energy and direction.
Today I had a great, great morning with the State Democratic Committee and a number of other people who came, and I tried to get them revved up and also remind them that the stakes in this election are quite high and we need to go to work on it. I feel very good about our candidates. I feel very good about the issues. I think the main thing we have to recognize is that in the non-Presidential years, voter turnout tends to go down, and that's not good for Democrats—number one. Number two, when times are good, the tendency of any people in any society is to sort of relax and think, "Well, why rock the boat?"
If you look at the newspaper, however, on any given day, if you analyze, among other things, the turmoil in Asia, you see, however, that we're living in a very dynamic time. Things can change overnight in a thousand ways. And my whole argument to the American people and the argument that I want to see brought home here in our State is that this is a time when we should be bearing down and moving forward and being even more committed to doing the things that need to be done to get our people ready for a new century and a completely different way of living and relating to the rest of the world. If you can't do it when times are good, then you're not going to do it. And we need to do that.
The other point I tried to make today, which I will make very briefly, is that thanks to the 22d amendment, I'm not going to be a candidate anymore. But I think it's very important that people understand—that the voters understand—and this election gives us an opportunity to—is it's not just a question of putting certain people in and having good things happen; it really matters what your ideas are, what your policies are. There is a connection between what we do in public office and what consequences flow in the country and in the world.
And that's the argument we've got to make. There are real, clear, unambiguous, powerful differences on State issues and national issues between Democrats and Republicans. And we are now no longer vulnerable to the kind of reversed plastic surgery they used to do on us at every election. That is, no one can say we're not responsible on the budget or the economy or welfare or crime or foreign policy or national defense or all those other things they used to say. So now people are free to take a cleareyed view of the future. And it's very important that all of us use these funds you've given and use our personal contacts to say, "Listen, this wasn't just a matter of Bill Clinton getting elected President. The Democratic Party has a bunch of new ideas. We've put them into action, and they worked." And they are still relevant, these differences, to every race in the State and every race for Congress that's going to be held this fall.
If the American people believe that, we're going to have an historic upset of the patterns that normally prevail in these midterm elections. So that's what we're going to use these funds for. I believe that we can do quite well indeed, because there are people like you all over America that feel the same way you do. But just don't forget, we have succeeded in convincing people that America is successful, and we're moving in the right direction. And I've been the luckiest person in the world. The American people have continued to support me in the face of unprecedented attacks.
But that's not the most important thing for this election. The most important thing is people realize—is we actually had a plan; we had ideas; we had policies; we had a plan. We implemented them, and the results were good. That's why things are good in America. And that's why they should support all of these other Democrats that are running in all the State offices and the races for Congress.
It is logical, and it is clear, but in good times, sometimes people just don't think about it. That's the case we have to make. We've got all the way between now and November to make it, and we certainly have a very impressive array of candidates.
For all of you who are running and all those who were here who are now over at the other event, I want to say I appreciate the fact that you've been willing to offer yourselves. Sometimes I know it's hard to do, especially when you see what happens to people who are successful. [Laughter] But you did, and I'm grateful. And I think we're going to be very grateful on election night in November. And I thank you very much.
Thank you.
NOTE: The President spoke at 7:40 p.m. at a private residence. In his remarks, he referred to dinner hosts Maurice and Betty Mitchell; and Vaughn McQuary, Arkansas Democratic Party chair.
William J. Clinton, Remarks at an Arkansas Victory '98 Dinner in Little Rock Online by Gerhard Peters and John T. Woolley, The American Presidency Project https://www.presidency.ucsb.edu/node/226290