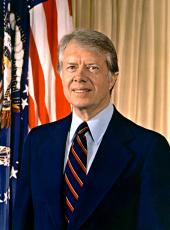 Regulatory Flexibility Act Remarks on Signing S. 299 Into Law.
THE PRESIDENT. First of all, I want to welcome all of you here. This is a very good day in the economic history of our country. As a small businessman myself, as one who's been intimately involved in the development of the White House Conference on Small Business, and as the leader of this Nation, trying to search for the proper delineation between regulation on the one hand, and the utmost competitiveness and freedom for our free enterprise system, I'm delighted to participate in this ceremony.
I do want to welcome all of you here, especially the Members of Congress, who are on the platform with me, who worked so hard to pass this legislation. I especially want to recognize John Culver, heal Smith, Gaylord Nelson, Andy Ireland.
In a few minutes I will sign into law an important element of my program to cut back on excessive regulations—a bill known as the small business Regulatory Flexibility Act. This law recognizes the fact that small businesses are vital to the growth and to the future of our country. It recognizes that Government regulation can impose a disproportionate and unfair burden on small businesses. This law requires agencies to tailor their regulations to the size and the resources of the affected business without sacrificing legitimate regulatory goals.
Politicians have talked about regulatory reform for a long time—for decades. We've acted on it. This is the fifth major regulatory reform bill that I have been able to sign—the broadest reform program in history. We have deregulated airlines, trucking, banking, and fossil fuels, and I hope to sign a railroad deregulation bill before this Congress adjourns.
I've ordered Federal agencies to analyze all the costs and benefits and to choose the least burdensome way to meet their legal objectives. These measures that I've just outlined to you so briefly are increasing competition and helping us fight inflation at the same time, without sacrificing environmental quality or the protection of the health and safety of Americans and other vital public interests.
These steps correspond to the major regulatory concerns that were expressed to me and to the public by the White House Conference on Small Business. In May, Chairman Arthur Levitt presented me with the Conference Commission's report. Since that time, my administration has already acted on many of the recommendations we received.
Let me tell you very quickly how we followed other recommendations of the Conference in addition to those that I've outlined and which will be encompassed in this bill.
A major concern was capital formation and the retention of capital by small businesses. The economic revitalization program that I announced on August the 28th directly addresses the most important recommendations. My program will help to create—above and beyond existing programs, normal recovery, and even all the proposals on Capitol Hill—a million new jobs in the next 2 years and will increase productivity of American workers without rekindling inflation. As a matter of fact, the total program to revitalize industry and create all those jobs will be anti-inflationary in its impact.
One half of the benefits of this program are incentives for business investment-especially helpful to small businesses. I'll describe some of them very quickly.
We will make accelerated depreciation of capital goods available to many more small businesses by simplifying and liberalizing existing rules. On the constant rate depreciation, small businesses can use the same depreciation methods as the large businesses, without having to hire an army of accountants. All those here, like myself, who are involved in a small business know that the extremely complicated depreciation rules in the past have almost made it impossible for us to utilize, without a staff of accountants, those opportunities in the tax laws. This will correct that defect.
The investment tax credit will be partially refundable for the first time-especially beneficial to new businesses and struggling businesses which are attempting to become financially solvent but which have not had a substantial income in the preceding year. New businesses would be assisted with improved tax flow by my proposal to deduct start-up costs over not less than 5 years. Offsetting social security tax increases with refundable tax credits will increase the ability of small businesses to keep current workers employed and to hire new ones.
At the urging of Senator Sam Nunn and others, I'm directing that OMB, the Office of Management and Budget, and the Small Business Administration study the use of loan guarantees, at no cost to the Federal Government, in conjunction with local development companies and private lenders to finance plant expansion and renovation.
We're increasing the share of Federal procurement going to small business-especially those owned by minorities and by women. Purchasing from minority owned firms, as a matter of fact, was only about $1 billion when I became President early in 1977. We expect to reach my goal of tripling that amount by the end of this fiscal year, and we hope to triple again the dollar volume of minority procurements.
Further, I've accepted the Commission's goal that contracts and subcontracts to minority firms account for 10 percent of all Government procurements by the end of this decade. We expect to double the current level of $200 million in purchases from women-owned firms by the end of fiscal year 1981. And my goal is that the Federal procurement from women-owned firms will be tripled again, to reach $600 million in fiscal 1982.
The experience we've had so far with this program, although predictions were made to the contrary, have been very good. I participated early this week, parenthetically, in the dedication of the new Atlanta International Airport—a major project, the largest airport in the world, advanced design, high quality workmanship. More than 25 percent of all the contracts in that airport were to minority-owned businesses. The results have been outstanding. As a matter of fact, in airport construction, 80 percent of the minority contracts were concentrated in that one project alone.
The same White House Conference that has made all these recommendations which we are trying to carry out as rapidly as possible encouraged the Small Business Administration to expand its $3 billion a year loan guarantee program—establishing targets for minority-owned and women-owned firms. We've already more than doubled funding for small business programs, and we'll propose further expansion.
We've been able to act quickly under sometimes almost emergency circumstances when necessary. To help revitalize the automobile industry, for instance, the SBA worked closely with local banks this summer to lend over $100 million to more than 500 automobile dealers so that they could stay in business.

The Office of Advocacy of the SBA has been strengthened, and its mission has been broadened. You can see that we have begun to implement many of the Conference recommendations in this short period of time, and we're not through yet. I intend to reconvene the Conference and its leadership in 1982, to review the progress made by that time, to reassess priorities which were set this year to see how much progress we have made, and to establish new goals, as appropriate, for future years.
In closing, let me say that the economic initiatives that I've outlined to you can help to revitalize our national economy, which is so reliant upon the vitality of small businesses. I recognize as an engineer, some experience in science, and as a small business leader of my own, and as a President, that quite often the innovation, the dynamism, the entrepreneurial attitude of American free enterprise system is concentrated in the small business. And all of these programs are designed to revitalize and to stir up competitive spirit-which is the foundation of our free enterprise system—in the years ahead.
I want to call all of you to help me in this ambitious program and to put it into action next year. John Culver and Andy Ireland invented the regulatory flexibility concept encompassed in this bill and worked long and hard to reach this day.
I will now sign the legislation into law, following which I would like to ask John Culver and then Andy Ireland to respond.
SENATOR CULIVER. Thank you very much, Mr. President. Members of the Congress and ladies and gentlemen:
This is a very exciting moment for so many of us in the Congress who have worked hard, along with so many of you here in this room, in the development and the formulation and the final enactment of what I think is very landmark legislation as far as this country is concerned.
It clearly is a victory not only for small business, but I think in a real sense, for a stronger economy and for a better Government. As we're all painfully aware when we apply uniform regulations, they unquestionably have fallen disproportionately hard on small business in their costs and in the resource difficulty in compliance.
This legislation, I think, is desirable because it's not a quick fix. It's not any easy remedy. But it really goes to the heart of the problem. It attacks it at its source. And it creates a reform of the process itself. So that in institutional terms, from this day forward, every agency of our Federal Government will necessarily be increasingly sensitive in the formulation of rules and regulations to deal with and meet and dove-tail with the particular entity being regulated, whether it's a small business or a small community.
And I would like to also say that in my judgment, this will help make possible the creative energies of small business in job creation and will also increase competition and, certainly, innovation where our small businesses have really been the heart of America's great economic strength.
And in closing, I want to also express my appreciation to Senator Gaylord Nelson, who with me, 3 years ago, began the long trek with this bill on the Senate side of the Congress; and also Senator Paul Laxalt from Nevada, who worked long and hard on this; and certainly Congressman Ireland; my colleague from Iowa, Congressman Neal Smith; and Congressman Kastenmeier as well. But finally, I wish to express to all of you my admiration, my respect, and appreciation, because in a very real sense, although the White House Small Business Conference was crucial, Milt Stewart's cooperation was indispensable, the work in the Congress was of course necessary, this legislation is really your creation and it's really your victory.

Thank you very much.
REPRESENTATIVE IRELAND. Mr. President, distinguished colleagues From the Congress, ladies and gentlemen:
When I introduced in the House the concept of regulatory flexibility for small business in 1978, I knew it would be a long, long struggle to see it enacted. With the help of the friends of America's small business, most of whom I believe are represented here today, it has become a reality.
We have thrown a regulatory lifeline to the millions of small businesses, organizations, and small governmental units which have been slowly sinking under an ocean of Federal regulation and paperwork. President Carter put us on the right road last year when he issued an Executive order encouraging the use of regulatory flexibility. Now, we've all joined together and have made it the law of the land.
The small business person in this Nation represents the independence, the freedom, the perseverance that have long been identified with the American way of doing things. Small business means innovation, it means productivity, and it means jobs. We have bettered the environment for all three of these by what we have done here today.
My thanks, on behalf of 13 million small businesses in the United States, to everyone who made this day possible. Thank you.
MR. WEAVER. I'm Vernon Weaver, Administrator of the Small Business Administration.

Mr. President, Members of Congress: Last January when the White House Conference on Small Business came to a close, the delegates elected a unity council and charged it with helping and implementing the delegates' recommendations. It's my pleasure to introduce to you a small business person, who is the chairman of that council, for a presentation—Mr. Bob Carr.
MR. CARR. Mr. President, Members of Congress, ladies and gentlemen:
You don't know how proud I am to be able to fulfill one of our top resolutions of the White House Conference. Specifically, the delegates to the White House Conference on Small Business, representing the needs, the views, concerns of more than 12 million small businesses, overwhelmingly adopted a resolution to congratulate and extend their appreciation and support to President Carter for his efforts to make 1980 the beginning of the revitalization of small businesses in the United States.
President Carter's concern, foresight, and initiative for protecting small businesses led to his calling the first ever White House Conference on Small Business to allow the small business people the opportunity to develop legislative proposals to resolve the problems facing small businesses. Small businesses across the Nation are encouraged by and appreciative of President Carter's efforts in the progress to implement the recommendations of the White House Conference on Small Business.
September 19th, 1980, bears witness to President Carter's efforts on behalf of small businesses and marks the realization of the dreams and hopes of 12 million small business owners and their 100 million employees, with the signing by President Carter of S. 299, legislation which enacts one of the recommendations of the White House Conference on Small Business.
THE PRESIDENT. There are very few secrets kept around the White House; this is one of them.
I think all of you know, from the comments that I have made and the comments of Congressman Ireland and Senator Culver, Bob Carr and Vernon Weaver, that this is a partnership. We have a long way to go, because for too many years the small business community in our Nation had its values underestimated in the strengthening of our economy, the innovation which is the spirit of America, and the contribution that can be made if the detriments and the handicaps in the way of small business progress can be removed.
We recognize that we have a long way to go. But this partnership, which has paid such rich dividends in the brief period of time it's been formed, I have no doubt will make our Nation realize a brighter future, a more prosperous future for our economic system and a better life for every American. I'm very grateful to be part of it.

Thank you very much, Bob Carr.
Note: The President spoke at 1:32 p.m. at the signing ceremony in the East Room at the White House.
As enacted, S. 299 is Public Law 96-353, approved September 19.
Jimmy Carter, Regulatory Flexibility Act Remarks on Signing S. 299 Into Law. Online by Gerhard Peters and John T. Woolley, The American Presidency Project https://www.presidency.ucsb.edu/node/251340