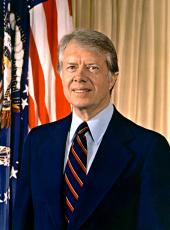 Registration Under the Military Selective Service Act Remarks on Signing Proclamation 4771.
Congresswoman Holt asked me how I knew all the names. I know a lot more about you all than you think I do. [Laughter] This morning I'll be signing a proclamation to implement the terms of the registration act that the Congress recently passed. I would like to say at the beginning that this is a very wise decision that the Congress has made. And I would like to emphasize that the registration act—which has now been passed and will go into effect—is not to threaten war, but is to preserve peace.
The action taken by our country and almost all other nations in the democratic world is designed to preserve peace. We are deeply concerned about the unwarranted and vicious invasion of Afghanistan by the Soviet Union and occupation by them of this innocent and defenseless country, which is completely unwarranted.
We have taken a series of steps—economic, diplomatic, political, military steps—in order to convince the Soviet Union that their action is ill advised and, of course, encouraging them to withdraw their troops from Afghanistan and also to prevent further aggression if they should be tempted to do so. All of the action we have taken is peaceful in nature, and we will stay committed to a peaceful resolution of disputes.
The freedom-fighters in Afghanistan, who are striving for the liberation of their country, deserve the admiration of the entire world, and their courage and persistence in fighting for freedom is the greatest single deterrent to the Soviet aggression being successful.
I would like to emphasize that the registration act is not a draft; I am not in favor of a peacetime draft. This registration act will do a great deal to marshal our own Nation's resistance to succumbing to temptation which might lead to war, and therefore lead to a mandatory draft. The only time that I envision a mandatory draft law being advocated to the Congress would be in time of war or in time of national emergency, and in a case of that kind, when our Nation's security is threatened, separate legal action would be required by Congress, a separate law, to initiate a draft under those circumstances.
I might say that we will continue to rely on voluntary enlistment by the military forces to defend our country. As a matter of fact, in the 1981 budget and through legislation initiated by some of the Members of Congress behind me, and by us, we will add approximately $1 billion to the military budget, to encourage additional enlistment of highly qualified young men and women, and also to make retention of those highly trained military personnel more effective.
In closing, let me say that following the signing of this proclamation, young men who were born in 1960 and in 1961 will be required to register at the post offices in their local communities. This will not mean that they are being drafted. It means that we are expediting the process by which, if our Nation enters a time of emergency or a threat to our national security or a time of war in the future, the marshaling of our defense mechanisms can be expedited. It's a precautionary measure; it's designed to make our country strong and to maintain peace.
I would like to ask the support of all Americans for this move: Americans in the age that will be registered and Americans of all ages who believe in a strong country, who believe in patriotism, who believe in maintaining peace through strength.
At this time I'd like to sign the proclamation that will implement the registration act.
[At this point, the President signed the proclamation.]
And I'd like to express my thanks to the Members of Congress who have wisely and courageously passed this law. Thank you very much.
Note: The President spoke at 9:33 a.m. in the Cabinet Room at the White House.
Jimmy Carter, Registration Under the Military Selective Service Act Remarks on Signing Proclamation 4771. Online by Gerhard Peters and John T. Woolley, The American Presidency Project https://www.presidency.ucsb.edu/node/251517