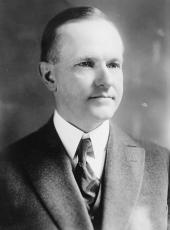 Radio Address to the Nation on the Occasion of Washington's Birthday
Each year the birthday of George Washington gains wider acceptance as being of more than national significance. He becomes more and more a world figure, a mighty influence reaching into all lands and recognized by all people. He is as universal as the truth. The great place which he holds in history grows more clear as we are able to compare him with all others who have set their stamp upon the affairs of mankind.
This position began to be appreciated even before his death. When Talleyrand, Foreign Minister of Napoleon, reported that our first President was gone he was led by his admiration to compose a eulogy. In it he dwelt upon these moral qualities of Washington, which have become more and more appreciated, and upon his exalted character. In recommending that a statue be raised to his memory in one of the great squares of Paris he declared: "The man who, amid the decadence of modern ages, first dared to believe that he could inspire degenerate nations with courage to rise to the level of republican virtues, lived for all nations and for all countries."
Something of the spiritual power of Washington is realized when it is remembered that even from Talleyrand his passing inspired such a tribute, accompanied by the suggestion of a memorial to the first citizen of a country who was at that very time preparing for what appeared to be an imminent conflict with France. The character of Washington raised him even above national enmities. It made him a hero that all peoples were compelled to honor.
In far-off lands people are observing this day by taking thought of the qualities that gave Washington this foremost place among the truly great. They are drawn to this man by his calm and clear judgment, by his abounding courage and by his unselfish devotion.
Beyond that which was ever accorded to any other mortal, he holds rank as a soldier, a statesman and a patriot. Others may have excelled him in some of these qualities, but no one ever excelled him in this threefold greatness.
Yet Washington the man seems to stand above them all. After we have recounted his victories, after we have examined his record in public office, after we have recalled that he refused to be made King, we have not exhausted his greatness. We can best estimate him by not identifying him with some high place, but by thinking of him as one of ourselves. When all detailed description fails, it is enough to say he was a great man. He had a supreme endowment of character.
No one can think of America without thinking of Washington. When we look back over the course of history before his day, it seems as though it had all been a preparation for him and his time; when we consider events since then, we can see a steady growth and development of the ideals which he represented, and the institutions which he founded, world-wide in extent. The principles which he fought to establish have become axioms of civilization. It might almost be said that the progress which peoples have made is measured by the degree with which they have accepted the great policies which he represented.
It is not possible to compress a great life into a single sentence. We look upon Washington as the exponent of the rights of man. We think of him as having established the independence of America. We associate his name with liberty and freedom. We say that he was a great influence in the adoption of the Constitution of the United States. All these are centered around the principle of self-government. But when we examine the meaning of independence, of constitutional liberty and of self-government, we do not find that they are simple rights which society can bestow upon us. They are very complex. They have to be earned. They have to be paid for. They arise only from the discharge of our obligations one to another.
Washington did not, could not, give anything to his countrymen. His greatness lies in the fact that he was successful in calling them to the performance of a higher duty. He showed them how to have a greater liberty by earning it. All that any society can do, all that any Government can do, is to attempt to guarantee to the individual the social, economic and political rewards of his own effort and industry,
The America which Washington founded does not mean we shall have everything done for us, but that we shall have every opportunity to do everything for ourselves. This is liberty. But it is liberty only through the acceptance of responsibility.
It cannot fail to be worth while to recall some of the activities of Washington and the men of his day. They were without independence. They went through the hardship of seven terrible years of war that it might be secured. They were without a National Government. They went through the toll and expense, the misgivings and sacrifices of years of political agitation that it might finally be established.
They were without industry, without commerce, without transportation and without shipping. But by their enterprise, their effort, their inventive genius and their courage these were created.
These efforts and their experiences we should keep constantly in mind. Before we complain too much about our hardships in these luxurious days, before we complain too much about such hardships, before we lose faith in the power of the people by relying on themselves best to serve themselves. it is well to consider the early beginnings of the Republic.
No one needs to be told of the general success which has attended the putting into effect of these principles politically and socially. No one claims that they have brought about, or are likely to bring about in the immediate future, a condition of perfection.
Self-government does not purge us of all our faults, but there are very few students of the affairs of mankind who would deny that the theory upon which our institutions proceed gives the best results that have ever been given to any people. When there is a failure it is not because the system has failed, but because we have failed.
For the purpose of insuring liberty, for enactment of sound legislation, for the administration of even-handed justice, for the faithful execution of the laws, no institutions have ever given greater promise or more worthy performance than those which are represented by the name of Washington.
We have changed our Constitution and laws to meet changing conditions and a better appreciation of the broad requirements of humanity. We have extended and increased the direct power of the voter, but the central idea of self-government remains unchanged. While we realize that freedom and independence of the individual mean increased responsibility for the individual, while we know that the people do and must support the Government, and that the Government does not and cannot support the people, yet the protection of the individual from the power now represented by organized numbers and consolidated wealth requires many activities on the part of the Government which were not needed in the days of Washington.
Many laws are necessary for this purpose, both in the name of justice and of humanity. Efforts in this direction are not for the purpose of undermining the independence of the in dividual, but for the purpose of maintaining for him an equal opportunity. They are made on the theory that each individual is entitled to live his own life in his own way, free from every kind of tyranny and oppression.
We have not yet reached the goal of Washington's ideals. They are not yet fully understood. He was a practical man. He suffered from no delusions. He knew that there was no power to establish a system under which existence could be supported without effort.
Those who now expect anything in that direction are certain to be disappointed. He held out no promise of unearned rewards, either in small or large amounts. On the other hand, if no one ought to receive gain except for services rendered, no one ought to be required to render service except for reasonable compensation.
Equality and justice both require that there should be no profiteering and no exploitation. Under the Constitution of the United States there is neither any peasantry nor any order of nobility. Politically, economically and socially, service and character are to reign; and service and character alone.
Such is the meaning of the life of George Washington, who came into being nearly 200 years ago. He left the world stronger and better. He made life broader and sweeter.
He accomplished these results by accepting great responsibilities and making great sacrifices. If we are to maintain the institutions which he founded, if we are to improve what he created, we must be like-minded with him; we must continue to accept responsibilities; we must continue to make sacrifices. Under all the laws of God and man there is no other way.
Source: The New York Times, February 23, 1924.
Calvin Coolidge, Radio Address to the Nation on the Occasion of Washington's Birthday Online by Gerhard Peters and John T. Woolley, The American Presidency Project https://www.presidency.ucsb.edu/node/355009