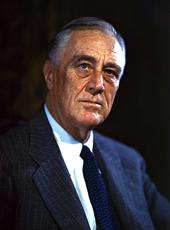 Radio Address on the Dedication of the American Monument at Montfaucon, France.
M. le President de la Republique Francaise, M. le Marechal Petain, Ambassador Bullitt, General Pershing, Ladies and Gentlemen:
Though the seas divide us, the people of France and the people of the United States find union today in common devotion to the ideal which the memorial at Montfaucon symbolizes. That ideal, to which both nations bear faithful witness, is the ideal of freedom under democracy, liberty attained by government founded in democratic institutions.
In a real sense this monument, which we have reared on the French hillside to commemorate the victory of our First Army in the Meuse-Argonne offensive, symbolizes that devotion.
Today we reaffirm our faith in the democratic ideal. It was in defense of that ideal that we entered the great war twenty years ago. In the Meuse-Argonne, we fought as champions of the rights of mankind. Neither France nor the United States sought or seeks conquest; neither had nor has imperial designs. Both desire to live at peace with all nations. Both seek kinship with lovers of liberty wherever they are found.
France is carrying on in the tradition of a great civilization, a civilization with which our own culture has had full communion from our very beginnings as a nation. We, of this country, have not forgotten nor could we ever forget the aid given us by France in the dark days of the American Revolution.
Our historic friendship finds apt expression in the quotation from a letter which Washington wrote to Rochambeau, and which is inscribed on the base of our monument to the great Frenchman: "We have been contemporaries and fellow-laborers in the cause of liberty, and we have lived together as brothers should do, in harmonious friendship."
Many things have gone into the making of the France which we revere and with whose culture we find ourselves in close communion. All of the past speaks to us in the living present, and out of the shadows of a thousand years emerge the glory and the achievement which are France.
These things we remember today, nor do we forget the living France: the green fields around Montfaucon, with broad farms and contented dwellers on the soil; the villages and cities with their artists and artisans- all these make and preserve the France we hail today.
To the preservation of this civilization American soldiers and sailors contributed' their lives and lie buried on this and other battlefields. They died brothers-in-arms with Frenchmen. And in their passing America and France gained deeper devotion to the ideals of democracy.
In their name, for their sake, I pray God no hazard of the future may ever dissipate or destroy that common ideal. I greet the Republic of France, firm in the confidence that a friendship as old as the American nation will never be suffered to grow less.
Franklin D. Roosevelt, Radio Address on the Dedication of the American Monument at Montfaucon, France. Online by Gerhard Peters and John T. Woolley, The American Presidency Project https://www.presidency.ucsb.edu/node/208672