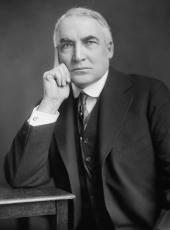 Proclamation—American Education Week-1922
By the President of the United States of America
A Proclamation
The ideals of democratic government and democratic education were planted simultaneously in our country. The fathers rightly believed that only a people trained to vision of public needs and duties could develop and maintain the institutions of popular government. The system of universal education, established in the beginnings, has developed with the country and become one of the characteristic features of our life. In it we have laid the foundation of that system of American culture which has enabled us to absorb and assimilate millions who have come to us from many countries, bringing the traditions of widely varying institutions.
In order that we may keep in mind the need constantly to improve our educational system, it is proposed that the week of Depember 3-9, inclusive, be set aside for special observance as American Education Week. It is recommended to the Governors of the states that they cooperate with the educational and civic authorities of their commonwealths to make the week a period for revival of interest in the broad work of national education.
It is gratifying to know that in a time when public burdens have lain very heavy upon the people there has been everywhere a determined purpose to maintain education unimpaired, in order that the coming generation may be equipped, regardless of sacrifices in the present, for the increasing responsibilities which it must bear.
"Without vision the people perish". Without education, there can be little vision. Of education it may be said that "It is twice blest; it blesseth him that gives and him that takes." It will be greatly worth the effort if, as an incident to the observance of Education Week, we can impress this thought upon the young manhood and womanhood of the nation and redirect their interest and patriotic zeal to the idea of making a proper contribution to educational work. It is regrettable that so few young men and women, equipped for such service, are nowadays disposed to give their time and talents to teaching. Education needs their youth, eagerness, zeal and enthusiasm. There is no school of discipline more effective than that in which the teacher goes to school. We could do no greater service than by convincing those young men and women who have enjoyed educational opportunities, that they owe a reasonable share of their time and energies to teaching.
The strength and security of the nation will always rest in the intelligent body of its people. Our education should implant conceptions of public duty and private obligation broad enough to envisage the problems of a greatly distraught world. More than anything else, men and women need the capacity to see with clear eye and to contemplate with open, unprejudiced mind, the issues of these times. Only through a properly motivated and generously inspired process of education can this be accomplished.
In view, then, of these and many other considerations, I hereby proclaim the week of December 3-9 as American Education Week, recommending to the appropriate national, state and local authorities that they give their cordial support and cooperation to making its observance inspirational and beneficial. Civic organizations and religious bodies may render special service by their cooperation; and particularly it is recommended that parents enlist themselves in behalf of closer understanding between the school and the home, with the purpose of mutual helpfulness.
In Consideration and Witness Whereof, I have hereunto set my hand and caused the seal of the United States to be affixed.
Done at the City of Washington this twentieth day of November, in the year of our Lord one thousand nine hundred and twenty-two, and of the independence of the United States the one hundred and forty-seventh.


WARREN G. HARDING
By the President:
CHARLES E. HUGHES, Secretary of State.
Warren G. Harding, Proclamation—American Education Week-1922 Online by Gerhard Peters and John T. Woolley, The American Presidency Project https://www.presidency.ucsb.edu/node/329243