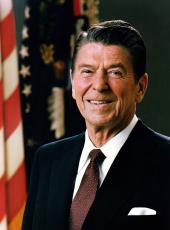 Proclamation 5857—Youth 2000 Week, 1988
By the President of the United States of America
A Proclamation
America is at once the world's oldest Republic and a Nation whose spirit is made forever young by our heritage and our future of liberty, justice, and opportunity. The American people cherish the children God has granted us. We seek to give young people a good start in life through our care, encouragement, and training and our transmittal of the enduring values that provide stability, vision, and strength. Youth 2000 Week, 1988, offers us a chance to reflect on our success in these areas; on the good qualities and countless achievements of young Americans; and on all we can and must do to guide and assist youngsters into responsibility, self-reliance, and fulfilling lives as adults—into saying yes to life and to healthy attitudes and behavior.
Just as in generations past, the continued well-being of our country depends on the development and preparation of youth in the skills they will need and on their understanding and awareness of the freedom, faith, and opportunity that are at the heart of America's greatness and goodness. These goals will be attainable in coming years if all of us—private citizens, business, labor, voluntary and professional organizations, church groups, educators, government, parents, and young people themselves—work together, building on the strengths of family, community, and country.
Youth 2000 is a nationwide call to action designed to encourage people in all sectors of society to help young Americans along the road to mature adulthood and economic and social self-sufficiency. We can all do our share to help youngsters avoid or solve problems such as illegal drug use and alcohol abuse, illiteracy, dropping out of school, and crime that cut across all social, economic, and geographic boundaries but are particularly acute in areas of rural and urban poverty.
America's economic freedom and the spirit and ingenuity of our people have long guaranteed our progress and prosperity. We can continue and expand these strengths as we approach and enter the 21st century. Employment opportunities will abound in the year 2000, but these new jobs will increasingly require workers who are able to read, compute, and learn new skills, and who have acquired education or training beyond high school. This is a goal we can reach if we remain true to the selfless volunteer spirit and the confident, forward-looking vision that have always sustained us.
Now, Therefore, I, Ronald Reagan, President of the United States of America, by virtue of the authority vested in me by the Constitution and laws of the United States, do hereby proclaim the week of September 11 through September 17, 1988, as Youth 2000 Week. I call upon all Americans to observe this week with appropriate programs, ceremonies, and activities.
In Witness Whereof, I have hereunto set my hand this 9th day of September, in the year of our Lord nineteen hundred and eighty-eight, and of the Independence of the United States of America the two hundred and thirteenth.



RONALD REAGAN
Ronald Reagan, Proclamation 5857—Youth 2000 Week, 1988 Online by Gerhard Peters and John T. Woolley, The American Presidency Project https://www.presidency.ucsb.edu/node/253974