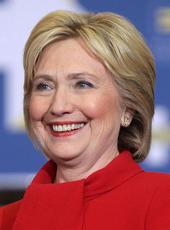 Press Release - Women's Campaign Forum Endorses Clinton, Joins Women Leaders Across the Country
Hillary Clinton was endorsed today by the Women's Campaign Forum, a bipartisan group dedicated to identifying and promoting women candidates for elected office. The Forum joins other prominent national women's organizations supporting Clinton, including EMILY's List, the National Organization for Women PAC, the National Women's Political Caucus, the Women's Political Committee and the Eleanor Roosevelt Legacy Committee.
"The Women's Campaign Forum is proud to endorse Hillary Clinton for President of the United States," said Ilana Goldman, President of the Women's Campaign Forum. "We could not ask for a better candidate. She is simply the most qualified and experienced candidate in the field for the White House and she demonstrates it each day of the campaign. She shows that women can succeed at the highest levels. Hillary Clinton is an inspiration for our daughters and for women across the country who are running -- or considering running -- for elected office."
"Hillary Clinton has shown that she does not just walk the walk, but she talks the talk -- in fact, she's leading the march," said Senator Barbara Mikulski, a national chair of the Clinton campaign. "She sponsored the Paycheck Fairness Act to ensure that women get equal pay for equal work. She sponsored the Prevention First Act to ensure that women have access to reproductive health services. She fought the Bush administration to make Plan B emergency contraception available over the counter. She passed legislation to expand the S-CHIP program to provide more children with health insurance, and is working for another expansion to cover all children. I am proud to see so many women leaders from across the country join me in supporting Hillary."
"I am grateful for the outpouring of support I've received from The Women's Campaign Forum and women across the country," Clinton said. "I will continue to reach out to women and all Americans who are ready for change, and ask them to join me in renewing America's promise."
The Forum's endorsement is the latest show of support from national women's groups and an unprecedented number of women elected officials from across the country in their support for Senator Clinton's historic bid. As former First Lady of Iowa Christie Vilsack said, "Hillary has earned our support for her lifetime of work on issues important to women and families."
A sampling of women elected officials supporting Hillary includes (list in formation):
Federal Elected Officials:

U.S. Senator Barbara Mikulski (MD)
Rep. Kirsten Gillibrand (NY)
Rep. Sheila Jackson Lee (TX)
Rep. Nita Lowey (NY)
Rep. Carolyn Maloney (NY)
Rep. Doris Matsui (CA)
Rep. Carolyn McCarthy (NY)
Rep. Grace Napolitano (CA)
Rep. Debbie Wasserman Schultz (FL)
Rep. Allyson Schwartz (PA)
Rep. Louise Slaughter (NY)
Rep. Stephanie Tubbs Jones (OH)
Rep. Nydia Velazquez (NY)
Former Elected Officials:

Geraldine Ferraro, former Vice Presidential candidate and U.S. Representative (NY)
Madeleine Kunin, former Governor (VT.)
Pat Schroeder, former U.S. Representative (CO)
Janis Ringhand, former Mayor of Evansville (WI)
Jackie Speier, former Assemblywoman (CA)
Maggie Glover, former State Senator (SC)
Sandy Freedman, former Mayor of Tampa (FL)
Frankie Sue Del Papa, former Attorney General (NV)
Bonnie Campbell, former Attorney General (IA)
Susan Bass Levin, former Mayor of Cherry Hill (NJ)
State Senators and Legislators:

State Senator Christine Kehoe (CA)
State Senator Sheila Kuehl (CA)
State Assemblywoman Fiona Ma (CA)
State Assemblywoman Anna Caballero (CA)
State Assemblywoman Mary Hayashi (CA)
State Assemblywoman Betty Karnette (CA)
State Assemblywoman Sallie Lieber (CA)
State Assemblywoman Mary Salas (CA)
State Senator Nan Rich (FL)
State Senator Arthenia Joyner (FL)
State Senate President Colleen Hanabusa (HI)
State Senator Harriette Chandler (MA)
State Senator Susan Fargo (MA)
State Senator Joan Menard (MA)
State Senator Pamela Resor (MA)
State Senator Karen Spilka (MA)
State Senator Susan Tucker (MA)
State Representative Ruth Balser (MA)
State Representative Geraldine Creedon (MA)
State Representative Lida Harkins (MA)
State Representative Kay Khan (MA)
State Representative Pam Richardson (MA)
Senate President Sylvia Larsen (NH)
State Senator Betsi DeVries (NH)
State Representative Catriona Beck (NH)
State Representative Eleanor Kjellman (NH)
State Representative Lori Movsesian (NH)
State Representative Barbara Shaw (NH)
State Representative Mary Sysyn (NH)
State Representative Janet Wall (NH)
State Representative Deborah Wheeler (NH)
State Representative Jane Clemons (NH)
State Representative Carol Estes (NH)
State Representative Carol Friedrich (NH)
State Representative Jill Shaffer Hammond (NH)
State Representative Doreen Howard (NH)
State Representative Jean Jeudy (NH)
State Representative Angeline Kopka (NH)
State Representative Bette Lasky (NH)
State Representative Melanie Levesque (NH)
State Representative Ricia McMahon (NH)
State Representative Martha McLeod (NH)
State Representative Deanna Rollo (NH)
State Representative Trinka Russell (NH)
State Representative Mary Jane Wallner (NH)
State Representative Jane Wood (NH)
State Senator Barbara Buono (NJ)
State Senator Nia Gill (NJ)
State Assembly Majority Leader Bonnie Watson Coleman (NJ)
State Assemblywoman Deborah Glick (NY)
State Committee Member Rachel Lavine (NY)
State Assemblywoman Ellen Young (NY)
State Senator Mamie Locke (VA)
Other Elected Officials:

Michela Alioto-Pier, San Francisco City Supervisor (CA)
Lois Frankel, Mayor of the City of West Palm Beach (FL)
Maureen Dinnen, Broward County School Board Member (FL)
Eleanor Sobel, Broward County School Board Member (FL)
Jennifer Gottlieb, Broward County School Board Member (FL)
April Griffin, Hillsborough County School Board Member (FL)
Susan Valdes, Hillsborough County School Board Member (FL)
Diana Wasserman-Rubin, Broward County Commissioner (FL)
Sue Gunzburger, Broward County Commissioner (FL)
Charlotte Rodstrom, Fort Lauderdale City Commissioner (FL)
Katy Sorenson, Miami-Dade County Commissioner (FL)
Christine Quinn, New York City Council Speaker (NY)
Jennifer Kim, Austin City Councilwoman (TX)
Kathleen Falk, Dane County Executive (WI)
Nancy Nusbaum, Former Brown County Executive and Mayor of DePere (WI)
Hillary Clinton, Press Release - Women's Campaign Forum Endorses Clinton, Joins Women Leaders Across the Country Online by Gerhard Peters and John T. Woolley, The American Presidency Project https://www.presidency.ucsb.edu/node/297194