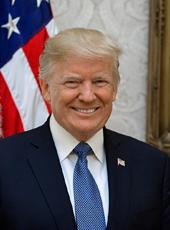 Press Release - White House Appoints 2020-2021 Class of White House Fellows
Today, the President's Commission on White House Fellows announced the appointment of the 2020-2021 class of White House Fellows. The highly regarded White House Fellowship provides professionals from diverse backgrounds an opportunity to engage in public service for one year by serving in various roles in the Federal Government.
Created in 1964 by President Lyndon B. Johnson, the White House Fellows Program was designed "to give the Fellows first hand, high-level experience with the workings of the Federal Government and to increase their sense of participation in national affairs." The Fellowship was created as a non-partisan program and has maintained this tradition throughout both Republican and Democratic administrations. The mission of the White House Fellows Program is to encourage active citizenship and service to the Nation. Throughout the year, Fellows participate in an education program that expands their knowledge of leadership, policy-making, and contemporary issues. Community service plays a vital role in the program, and Fellows take part in service projects throughout the year.
The highly competitive selection process to become a White House Fellow is based on a record of professional accomplishment, evidence of leadership skills, the potential for further growth, and a commitment to service. Selected individuals spend one year working as a full-time, paid fellow to senior White House Staff, Cabinet Secretaries, and other top-ranking government officials. Applications for the 2021-2022 Fellowship year will be accepted from November 2, 2020- January 6, 2021, at 5:00 p.m. ET. The application link and additional information is available at https://www.whitehouse.gov/get-involved/fellows/.
2020-2021 Class of White House Fellows:
Steve Clagett, Jr. is from Chesapeake Beach, Maryland, and is placed at the United States Department of Labor. Steve is a Lieutenant Commander in the United States Navy Reserve and a Navy SEAL. Since February 2020, Steve has worked with the Baltimore Ravens Player Personnel Department. In this position, he assisted with talent selection and preparations for the virtual NFL Draft. In the previous 13 years, he deployed to the Middle East, Africa, Europe, and the Pacific in support of Operation Enduring Freedom and Operation Iraqi Freedom. Steve's military awards include citations for combat deployments in Iraq, Afghanistan, Yemen, and Africa. Steve is a Commissioner with Maryland's Veterans Home Commission and a small business owner. He volunteers with Farming 4 Hunger, which is a non-profit organization that provides local produce for food banks in Southern Maryland while building a stronger community. Steve earned a Bachelor of Arts in Sociology with a minor in Public Service from the University of Notre Dame. He was a 4-year letter winner and 2-time captain on the lacrosse team. He is finishing a Master of Business Administration from the University of Virginia Darden School of Business.
Pia Dandiya is from Jupiter, Florida, and is placed at the United States Department of Education. Pia is the founding principal of Democracy Prep Endurance High School in Harlem, New York. Every single graduate of her school went on to attend college despite nearly all living below the poverty line. Pia founded her high school at 28 years old, making her among the youngest principals in the country at the time. Her school remains one of the highest performing in New York and has earned the title of "Recognition School" for its high academic achievement. Pia began her career in Boston with Teach For America as a middle school math teacher, where she led her students to the highest growth percentile in state assessments at her school. Before transitioning to school leadership, Pia was a Manager of Teacher Leadership Development for Teach For America in New York, and a teacher at the first all-boys charter school in the country, Excellence Boys Charter School. She has been featured in national news pieces on effective teaching and speaks three languages, including Spanish and Hindi. Pia earned a Bachelor of Arts in Government from Harvard University and has a Master of Education from Boston University.
Lindsey Gerheim is from Alpharetta, Georgia, and is placed at the United States Department of Commerce. Following family tradition, she is the sixth to serve in law enforcement, seventh in the military, and first to combine paths as a United States Army Military Police Officer. Lindsey has deployed and led combat missions in Iraq, trained the Army's newest officers, and served as Operations Officer for criminal investigators serving over 1 million personnel across 5 continents. As a Major in the United States Army, Lindsey previously served in Kuwait as Aide-de-Camp for the Army Central Command's Deputy Commander, where she worked with United States Ambassadors and host nation military leaders in support of security initiatives across 20 nations. In Guantanamo Bay, Cuba, her unit was responsible for security of all high-value detainees and earned the Army's Superior Unit Award. Lindsey has earned two Military Outstanding Volunteer Service Medals for her mentorship with youth softball and 'Sisters in Arms' programs. Lindsey earned a Bachelor of Science from the United States Military Academy at West Point, where she was an All-American Scholar-Athlete and co-captain of Army's Division-1 softball team. She earned a Master of Arts from Webster University and a National Academy Certificate from the Federal Bureau of Investigations.
Aleksas Juskys is from Wilmette, Illinois, and is placed at the Office of the Chief of Staff at the White House. Aleksas is a senior director of business operations at Rapid7, a leading cybersecurity company, where he is focused on strategic long-term growth for global go-to-market initiatives. Aleksas has worked at GE Aviation, where he was the Chief Financial Officer and operations leader for a $1.5 billion military jet engine division. Aleksas also served in the United States Air Force as a fighter pilot, where he logged nearly 2,000 hours in the F-16, including combat missions in support of Operation Enduring Freedom. Aleksas served as an F-16 Instructor Pilot at the United States Air Force Weapons School. There, he planned and led large missions utilizing over $12 billion of assets, served as a tactical mentor to international exercises involving more than a dozen countries, and developed and taught academics in collaboration with the Navy, Army, and Marine Corps. He earned his Bachelor of Science in Finance from the University of Illinois, a Master of Arts in International Studies from the Lauder Institute at the University of Pennsylvania, and a Master of Business Administration from the Wharton School.
Brian Kitching is from Lincoln, Nebraska, and is placed at the White House Office of Management and Budget and the United States Office of Personnel Management. Brian is a Lieutenant Colonel in the United States Army and has spent over 50 months deployed to combat since 2002. He has served in key roles within Special Operations and Infantry units, including assignments to the 75th Ranger Regiment, 101st and 82nd Airborne Divisions, and 3rd Infantry Division. His military awards include two Bronze Stars for Valor and the Silver Star. His experience in the Middle East includes numerous kinetic combat operations, as well as economic development and social assistance missions over nearly 20 years. Brian served as a General Wayne Downing Scholar at the Combating Terrorism Center at West Point and is a term member for the Council on Foreign Relations. Brian most recently served as a Special Assistant to the 40th Chief of Staff of the Army. Brian earned a Bachelor of Science in Economics from Alabama A&M University, a Master of Public Administration from the Harvard Kennedy School of Government, and Master of Arts in International Affairs from the Fletcher School at Tufts University.
Dan Kurtenbach is from Nevada, Iowa, and is placed at the United States Small Business Administration. He was previously a program manager for new product introduction at Apple, where he worked on the company's flagship products for the iPhone and Core Technologies Product Operations team in Silicon Valley. Before Apple, he served as an Army Special Forces officer and led both special operations and conventional forces in the Middle East, Europe, and South and Southeast Asia. He served as an Infantry platoon leader in Iraq, commanded the Special Forces "A" team responsible for conducting humanitarian and rescue operations during the 2015 Nepal earthquake crisis, and led a special operations element in United States Embassy-Dhaka in 2016 during Bangladesh's spike in terrorism. Dan is active in advocating for mentoring service members as they separate from the military. Dan earned a Bachelor of Science in International Relations from the United States Military Academy at West Point, a Master of Business Administration from MIT's Sloan School of Management, and a Master in Public Administration from the Harvard Kennedy School.
Josephine Nguyen is from Burke, Virginia, and is placed at the United States Department of Health and Human Services. Josephine is a Commander and Physician in the United States Navy. As the former Deputy Chief Medical Executive for the CAPT Lovell Federal Health Care Center, she oversaw a $100 million dollar budget and led an integrated Veterans Affairs/Department of Defense team of 1,140 staff. A board-certified dermatologist with over 20 publications, Josephine is the United States Navy Surgeon General's senior dermatology consultant. Passionate about patient advocacy, she holds national-level leadership positions in several medical organizations, served as a Dermatology World contributing editor, and she earned the Department of Defense's 2018 Female Senior Physician Leadership Award. Josephine served as a flight surgeon in the Indo-Pacific Theater, forward-deployed on the USS Kitty Hawk in direct support of aviation squadrons. She was a Robert Wood Johnson Health Policy Fellow and a physician advisor to Congressman Kevin Brady. She graduated second in order of merit from the United States Naval Academy, earned an M.D. from Stanford University, a Master of Science in Healthcare Delivery from Dartmouth University, completed a dermatology residency at the University of Pennsylvania, and is a graduate of a 2-year Wharton School Executive Education program.
Michelle Ruehl is from Lincoln Park, Michigan, and is placed at the United States Department of Transportation. Michelle is a Lieutenant Colonel in the United States Air Force Reserves. She is an instructor pilot and aerospace policy specialist who has flown over 800 combat hours in Afghanistan during Operation Enduring Freedom. Michelle served as an English professor, theater director, and sexual assault victim advocate for the United States Air Force Academy. She is the founder of the Social Impact Theater Project, an interactive intervention program for military members. Michelle used her certification as a Professional Association of Therapeutic Horsemanship riding instructor to create and direct the nonprofit Parwana LEADership Legacy, which uses horses, sports, and music to provide leadership and resiliency programs for veterans and their families. She has served as a volunteer teacher in Ghana, Tanzania, and Nepal, and was a Visiting Senior Fellow at the Mitchell Institute for Aerospace Studies. She has been appointed to several boards, including for Mt. Carmel Veterans Service Center, the Colorado Springs Airport Commission, and New Summit Charter Academy. Michelle earned a Bachelor of Science in English from the United States Air Force Academy, a Master of Arts in Psychology from North Central University and a Master of Arts in English from the University of Colorado.
Wes Spurlock is from Norco, California, and is placed at the United States International Development Finance Corporation. He is a Lieutenant Colonel in the United States Air Force. Wes served as the Squadron Commander of the 344th Air Refueling Squadron at McConnell Air Force Base in Wichita, Kansas. As the Commander, Wes was responsible for leading a team of more than 100 military and civilian personnel that delivered and operated the Air Force's newest aircraft, the KC-46 Pegasus. Before that assignment, Wes was the Military Aide to President Obama and President Trump, where he was responsible for the Presidential Emergency Satchel (football) and assisted the President in implementing command and control of the United States' Nuclear Arsenal. He has served overseas on multiple deployments, including Operations Enduring Freedom, Iraqi Freedom, and Unified Protector. Wes is very involved with the Gold Star community. He earned a Bachelor of Science in Civil Engineering from the United States Air Force Academy with military distinction, a Master of Business Administration from Mississippi State University, and a Master in Public Administration from the Harvard Kennedy School of Government.
David Strong is from Novi, Michigan, and is placed at the United States Department of Defense. David is a board-certified Emergency Medicine Physician with specialty certification in Emergency Medical Services. He is a staff physician at Henry Ford Hospital, a non-profit institution with a tripartite mission of patient care, education, and research. David served as the Medical Director for the TCF Regional Care Center, an alternate care site built to care for Detroit's patients during the COVID-19 pandemic. While completing residency training at the University of Cincinnati, he volunteered as the resident assistant medical director for the Blue Ash Fire Department and the Cincinnati Police Department Special Weapons And Tactics Team. He was also a Flight Physician for Air Care, the University of Cincinnati's air medical transport service. David earned an M.D. and Ph.D. in Immunology from Washington University in St. Louis, where his thesis work focused on the identification of viral determinants of pathogenesis of the Murine Norovirus. He attended Johns Hopkins University where he earned a Bachelor of Arts and a Master of Science with a concentration in Cellular and Molecular Neuroscience.
Travis Thul is from Winona, Minnesota, and is placed at the Export-Import Bank of the United States. Travis is a Lieutenant Commander in the United States Coast Guard, an educator, an engineer, and an entrepreneur. He has led national level security operations and disaster response, including maritime Deputy Incident Commander for the 2020 Democratic National Convention, infrastructure reconstitution in Puerto Rico post Hurricane Maria, and Hurricane Florence triage operations. Travis served as Dean of Trades and Technology at Minnesota State College Southeast. He and his team of 35 faculty reimagined vocational-technical education. This included the Rural Advanced Manufacturing Education Hub, deploying tech-college education to regional high schools; the Advanced Manufacturing Infrastructure Initiative, raising over $1M to build rapid prototyping labs; and the world's first Bicycle Design and Fabrication degree, providing vocational training to Generation Z. Travis has chaired the American National Standards Institute Working Group for Wireless Power. Travis is a licensed Professional Engineer and holder of multiple patents. He earned an Associate of Applied Science from Fox Valley Technical College, a Bachelor of Science from the Milwaukee School of Engineering, a Master of Science from the University of Wisconsin-Madison, and a Doctor of Engineering from George Washington University.
Leah Tunnell is from Cedaredge, Colorado, and is placed at the United States Department of Housing and Urban Development. Leah has served around the globe in the United States Navy, first as a MH-60S "Knighthawk" helicopter pilot and now as a Foreign Area Officer. She flew in support of Operation Iraqi Freedom and served with Special Operations Task Force South-East in Afghanistan supporting Operation Enduring Freedom. She flew numerous mountain rescue missions in the Pacific Northwest as a Search and Rescue (SAR) Mission Commander and was awarded the Chief of Naval Operations SAR Model Manager Aircrew of the Year (Inland) in 2011. Leah served at the Pentagon and worked International Engagements for the Chief of Naval Operations, supporting implementation of the National Security and National Defense Strategies. She served as the Pol-Mil Advisor for Commander, United States SECOND Fleet and NATO Joint Force Command Norfolk. Leah studied Portuguese at the Defense Language Institute, graduating with Highest Honors and earned a Master's Degree in Naval Sciences at the Brazilian Naval War College in Rio de Janeiro, Brazil.
Jonathon Westbrook is from Kansas City, Kansas, and is placed at the White House Office of American Innovation. He is a police officer for the Kansas City, Kansas Police Department (KCKPD). Jonathon was awarded the "Stanley Fisher Award" for dedication to the field beyond the classroom. He volunteered as a mentor at Leavenworth Penitentiary through the Life Connections program and served as Youth Director and mentor at Bread of Life Outreach Ministries. In 2016, Jonathon was selected to lead the KCKPD OK mentoring program, empowering black men and boys to lead their community. Jonathon was selected to the Professional Standards Unit, where he wrote policy, operational standards, and addressed the local and national media on behalf of the KCKPD. He was appointed by Governor Sam Brownback to the Kansas Human Rights Commission and appointed by Ron Ryckman, Kansas Speaker of the House, to the Kansas African American Affairs Commission. Jonathon earned both an Associate Degree in Political Science and a Bachelor of Arts in Organizational Leadership from Donnelly College, as well as a Master of Public Administration from the University of Kansas.
Cathryn Yerage is from Goldsboro, North Carolina, and is placed at the United States Department of State. She is a Major in the United States Air Force and most recently, served as the Chief Executive Officer to the 437th Airlift Wing Commander at Joint Base Charleston, South Carolina, Air Mobility Command's largest and busiest strategic airlift wing. She was a direct representative of the Commander for all staff matters and led the front office through Hurricane Dorian evacuation and COVID-19 response. A C-17A pilot, she deployed as the Director of Operations for the only C-17A combat squadron, leading more than 26 aircrews in executing sorties resulting in the movement of 34.7 million pounds of cargo throughout the Middle East, Southwest Asia, and North Africa regions. With over 2,300 flight hours, 600 in combat, CJ has deployed four times in support of contingency operations and has extensive international exercise experience. She is commissioned through the United States Air Force Officer Training School in Montgomery, Alabama. CJ earned a Bachelor of Arts in English from the University of North Carolina at Chapel Hill and a Master of International Relations and Conflict Resolution from the American Military University.
Donald J. Trump, Press Release - White House Appoints 2020-2021 Class of White House Fellows Online by Gerhard Peters and John T. Woolley, The American Presidency Project https://www.presidency.ucsb.edu/node/346723