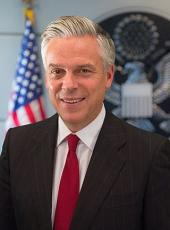 Press Release - What You Don't Know About Governor Huntsman
Somehow, Jon has had a few false labels placed on him by some people -- but many of those labels distort his real record.
As Jon and I celebrate our 28th year of marriage this week, never did I dream we would be sitting in a presidential campaign. The night before we were married, a dozen roses were delivered to my home with the message, "I hope you are ready for an exciting life."
Being madly in love, and knowing Jon's sense of adventure, I was ready to take the plunge, but I certainly never expected to have to give a speech in public, or move to China. However, life has taken us on a journey where those experiences have been unavoidable. Our time in China has been a tremendous gift and great part of our lives, as we now have the joy of raising a beautiful little girl from Yangzhou.
One thing I think I know pretty well is my husband's true heart and soul. As we go through this campaign process, I am often dismayed by how perceptions can overtake reality. I'm sure the spouses of other candidates feel this same way at times.
I've watched him as a father, a governor, an ambassador, and a loving husband. Each responsibility has been met with the greatest amount of integrity, trust, character, and honor. Jon was raised with the belief that when asked to serve your country -- especially in a critical foreign policy position, and in a tumultuous time in the world -- that you serve. He says this is a philosophy he will take to his grave, and that is something of which I am very proud. Our two sons have chosen to follow their father's example and wear the uniform of the United States Navy. Our boys will be serving their country regardless of which party their president comes from.
From the day we were married he said that whatever we did in life, he wanted to make sure it was always about giving back, and helping to make the lives of others better. Our children would all say the greatest lesson they have engrained from their dad, is to give back to God and country. Our family motto has been, "No exercise is greater for the human heart, than leaning down and lifting another up."
It is not unusual at all to see Jon sitting privately at a table in a homeless shelter, talking about life with those who have been dealt a bad hand. As governor, he would often quietly stop by the "House of Hope," a drug rehab house for recovering moms, to listen to their stories, and provide a hopeful message. Having his own sister die of addictions, he had a bit of understanding and compassion, and a desire to help. He has the ability to connect to people of all backgrounds, religions, and ethnic groups. Leaders of various religious organizations in Utah knew he was a man of the people, as he tried to stop by and recognize all the different faiths in the state. As governor, he felt it was not only important to celebrate Christmas in the governor's mansion, but also bring in other religious groups to remember their special holidays, such as Hanukkah, Diwali, and Chinese New Year.
Somehow, Jon has had a few false labels placed on him by some people -- but many of those labels distort his real record. For example, Jon has been consistently conservative since I met him back when he worked for Ronald Reagan. As governor he was pro-life, pro second amendment, and pro school choice. As a candidate for president he has proposed the most bold, conservative, pro-growth jobs plan of all the presidential candidates. On these and other issues he has never wavered. That's why I know that he has the ability to unite and bring people together to solve problems.
He is a leader who knows how to present a vision and follow through with solutions. That is why he won reelection in the reddest state of the union, with 78 percent of the vote. Some may not have agreed with him 100 percent on every issue, but the voters of Utah knew he was honest and genuine, and did not pander to whatever group he was speaking to. He was willing to take a stand on what he felt was right. He would rather lose an election, than be inauthentic. People who know him, know this quality.
As we live in a time when our country is unusually divided, this is the kind of leader I think our country needs. It is going to take a president who can bridge people together, standing tall on principles and family values. One who has the ability to deliver tangible results and improve the lives of Americans. We have a candidate who exudes all of these qualities... I hope you get to know him like I have.
Jon Huntsman, Press Release - What You Don't Know About Governor Huntsman Online by Gerhard Peters and John T. Woolley, The American Presidency Project https://www.presidency.ucsb.edu/node/298920