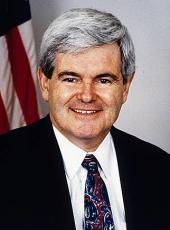 Press Release - What They're Tweeting About Newt's Performance at the Palmetto Freedom Forum
Newt earned rave reviews for his answers at the Palmetto Freedom Forum. Check out what people on Twitter were saying during the forum.
@RichLowry (Editor, National Review): newt absolutely nails it on dec of ind
@CharlestonPats (Charleston Tea Party): Nobody does American exceptionalism better than @newtgingrich opening remarks #scpol #palmettoff
@matthewhurtt: @NewtGingrich does an excellent job relating to the audience early on. #DeMintForum
@robertcostaNRO: Gingrich was impressive. Best 22 minutes of his campaign.
@yvonnewenger (Reporter, Post and Courier): Gingrich gets first response applause when he is talking about judicial encroachments
@chrisoviatt (SC GOP Executive Committee): Newt has gotten more applause in his first 10 mins than the previous candidates combined! #palmettoff #sctweets
@TheTonyLee (Chase 2012 Editor, Human Events): Newt on Melting Pot. Out of park! will be the color blind litmus test for GOP going forward this decade. Just watch. #CA1990s
@CharlestonPats (Charleston Tea Party): @newtgingrich points out super committee doesn't represent all the people #palmettoff #scpol
@amandacarpenter (Communications Advisor, Sen. Jim DeMint): GINGRICH: "Bad government has destroyed the city of Detroit."
@thestate (The State Newspaper): Gingrich is done. He got the most laughs/applause so far. #palmettoff
@_DavidMReed: @newtgingrich laid out THE BEST plan for a New America. The DeMint Forum has been incredible. #GOP #GOPDebate
@Bill_Bruner: Newt best candidate tonight: on life issues, role of Creator in public life, jobs & energy policy, borders & judicial overreach! #palmettoff
See more Tweets at @Newt2012HQ.
Newt Gingrich, Press Release - What They're Tweeting About Newt's Performance at the Palmetto Freedom Forum Online by Gerhard Peters and John T. Woolley, The American Presidency Project https://www.presidency.ucsb.edu/node/298596