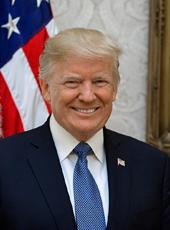 Press Release - What They Are Saying: Support for President Donald J. Trump Taking Action on Drug Addiction and the Opioid Crisis
Chairman of the Police Assisted Addiction and Recovery Initiative (P.A.A.R.I.) and Arlington, Massachusetts Police Chief Frederick Ryan: "It is fitting that we stood to witness a historic shift in federal drug policy since it was municipal law enforcement that declared two-and-a-half years ago that the opioid epidemic was a public health and a community issue that would never be resolved through arrest alone. I am extraordinarily pleased that this epidemic will receive the attention it so badly needs on all fronts from the federal government."
Police Assisted Addiction and Recovery Initiative (P.A.A.R.I.) Partner and Olmsted Township, Ohio Police Chief Matthew Vanyo: "The number of deaths associated with the opioid epidemic is alarming, and President Trump's declaration today is an important step for the nation in getting those struggling with addiction the help they need to recover. I was honored to stand on stage today as the President made this announcement."
Senate Majority Leader Mitch McConnell (R-KY): "I would like to commend the President for his continued commitment. When he visited us in the Senate earlier this week, he discussed the national epidemic and his administration's efforts to fight back. Along with my colleagues, I stand ready to work with him on future proposals to provide necessary tools to protect our communities from this scourge."
Speaker of the House Paul Ryan (R-WI): "One hundred seventy-five deaths a day—that's the reality of our opioid crisis. From our biggest cities to our smallest towns, this epidemic has infiltrated the heart and soul of American communities through prescription drugs and heroin. The President is right to declare this a public health emergency. Building on actions Congress has already taken, this directive will help states and local communities better fight this battle, and strengthen the tools available at the federal level. It's time to remove the stigma of addiction and ensure people have access to the help they desperately need—and deserve."
Senator Tim Scott (R-SC): "Today's announcement by President Trump is an important step in tackling the opioid epidemic that has had dire consequences for so many families across the nation. We must do everything possible to both help those struggling with addiction and stop the further spread of opioid abuse. I look forward to working with my colleagues in the Senate and the White House to continue combatting this deadly epidemic."
Senator Rob Portman (R-OH): "There is no doubt that this heroin and prescription drug epidemic is a national crisis, and it's getting worse, not better. The President's decision to declare this epidemic a public health emergency is a positive step forward, and I'm hopeful it will lead to a better coordinated federal response to this crisis. I have spoken to the President in depth about this epidemic and the devastating impact it is having on our communities in Ohio and around the country, and I know he is committed to addressing it in a comprehensive way. I look forward to seeing the final recommendations of the President's opioid commission in the coming weeks."
Senator Roger Wicker (R-MS): "The opioid epidemic in this country has impacted nearly half of all Americans – a heartbreaking fact. With his actions today, President Trump is following through on his promise to fight this crisis and help American families heal."
Senator Lisa Murkowski (R-AK): "I applaud President Trump for declaring the opioid crisis a public health emergency, today. Opioid addiction has become one of the most devastating public health issues confronting our nation. It is impacting everyone, destroying families, spurring crime, hurting our economy, and leading to the tragic deaths of far too many. The impacts of this epidemic are far reaching and fighting it will require all of us, including federal, state, tribal and local governments, as well as families, communities, and individuals to work together. Within my own state, Governor Walker declared the opioid epidemic a public health crisis in February, and has since worked to take practical steps to combat this crisis. Today's declaration and the emphasis it brings is another important step which I hope will encourage more collaboration and coordination in our efforts. I remain dedicated to working alongside Alaskans in this fight against opioid addiction and substance abuse and will keep fighting for the resources we need."
Senator Orrin Hatch (R-UT): "I am sobered by the President's action, but I hope this will provide the necessary resources and coordination to address the opioid epidemic that is sweeping our country. Although this crisis is affecting all states, it has been particularly devastating in my home state of Utah, where dozens of men and women die each month from overdose. While Congress and state officials have made progress in stemming the tide of opioid addiction, much work remains to be done. It's unfortunate that the situation requires such dire steps as a national public health emergency, but I'm hopeful that this will be a meaningful step to end this epidemic once and for all."
Senator Shelley Moore Capito (R-WV): "West Virginia has suffered so much because of the opioid epidemic. We have lost friends, neighbors and family members, and we have seen entire communities torn apart by its devastating consequences. Today, the president took a significant step forward in helping us fight this growing epidemic by declaring it a national public health emergency. This declaration makes fighting the opioid epidemic a true national priority and draws attention to the urgency of this crisis. The declaration also makes it easier for the federal government to respond and will help improve and expand access to services for individuals struggling with addiction."
Representative Harold "Hal" Rogers (R-KY): "Eastern Kentucky was one of the original epicenters of the opioid epidemic, with powerful prescription painkillers taking hundreds of lives and wrecking countless families through the pain of addiction. Rapidly, the overdose rates have skyrocketed nationwide becoming the leading cause of injury death in America, killing 175 people every day. I applaud President Trump for raising the stakes and declaring the epidemic a public health emergency. It builds upon the momentum of Operation UNITE in Eastern Kentucky, the National Rx Drug Abuse and Heroin Summit, the Congressional Caucus on Prescription Drug Abuse and our congressional efforts to save lives, treat addiction, expand recovery efforts, enhance education and prevention in our communities, and tackle the illicit drug trade."
Representative Tom Garrett (R-VA): "President Trump showed true leadership in declaring the opioid crisis a public health emergency. I stand ready to work with the Administration and my colleagues in Congress to continue addressing the opioid crisis the right way: through reasonable legislation passed by Congress, rather than by executive fiat."
Representative Jim Renacci (R-OH): "President Trump continues to pressure and highlight an epidemic we in Ohio are all too familiar with: The Opioid Crisis. By declaring it as a public health emergency the entire Administration can now mobilize and focus our resources to help stem the tide of this epidemic. I applaud the President's persistent effort in fighting this epidemic that has ravaged families and communities across America. Like the President, I too understand that the best way to prevent overdose deaths is to prevent people from abusing them in the first place. That is why Congressman Mark Meadows and I will be introducing legislation that will help prevent new addiction by limiting exposure to opioids. I look forward to working with the President and his Administration to help free our nation from the grips of addiction."
Representative Richard Hudson (R-NC): "I applaud the President for taking this needed action to combat the opioid crisis. This is a great step because it helps better focus and coordinate the resources of the federal government on this priority. Combatting the opioid crisis is an ongoing challenge. We will continue to learn, to improve and to find the best ways to support communities. There is no silver bullet solution, and that's why making this a public health emergency is warranted. It's going to take all of us – law enforcement, families, doctors, local officials, parents, teachers, legislators, and more – working together to turn this crisis around, save lives and restore our communities."
Representative Fred Upton (R-MI): "I want to applaud the Trump Administration for taking decisive action to address the threat the opioid crisis poses. This fight is personal to me: It has hit home even in my own extended family. It has torn through families, neighborhoods, and communities both in my home state of Michigan and indeed across the entire country."
Representative Tim Walberg (R-MI): "Heroin and opioid addiction is an epidemic sweeping our country. It is devastating the dreams of people we know and love—friends, family, and neighbors—with no signs of stopping. Tragically, communities across Michigan know this pain too well. I commend President Trump for today's declaration and shining a spotlight on the pressing need for bipartisan action. These additional tools will help bolster Michigan's response to the opioid epidemic and offer a helping hand to those in need. Tackling this crisis must be a national priority, and I'll continue to work closely with officials at every level to reverse the trends of addiction."
Representative Rick Crawford (R-AR): "For each opioid prescription in Arkansas, 114 pills on average are administered to a single individual, making our state's prescription rate second in the nation. By declaring the opioid epidemic a national health emergency, President Trump has brought us closer to relief from this crisis for Arkansas and for rural Americans, who die from overdoses at a higher rate than their urban neighbors."
Donald J. Trump, Press Release - What They Are Saying: Support for President Donald J. Trump Taking Action on Drug Addiction and the Opioid Crisis Online by Gerhard Peters and John T. Woolley, The American Presidency Project https://www.presidency.ucsb.edu/node/331641