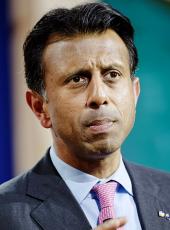 Press Release - What They Are Saying About #LetBobbyDebate
As Bobby Jindal surges in Iowa, more leading Republicans are calling for him to be on the main debate stage. As it stands now, Kasich, Paul, Christie and Huckabee are all polling lower than Jindal in Iowa, yet they make the cut anyway due to current flawed debate criteria that diminishes the role of early states like Iowa and New Hampshire. Here's what they are saying about #LetBobbyDebate:
Erick Erikson, Red State: Bobby Jindal Should Be on the Debate Stage
Erick Erickson, Red State: I continue to be appalled that Bobby Jindal is not on the main debate stage with the other candidates. He is doing it again — proposing actual substance and thinking out of the box. This time it is his tax plan.
Erick Erickson, Red State: I think it is a travesty that CNBC is further restricting the debate stage at a point candidates are already starting to drop out. I think the American people deserve to hear from Jindal who, by the way, is the only candidate to aggressively stand up to Trump... The two-term Governor of Louisiana deserves to be heard...
Political analyst Eric Fehrnstrom in the Boston Globe: Jindal Needs Opportunity to Be On Main Stage
Political analyst Eric Fehrnstrom for the Boston Globe: Louisiana Governor Bobby Jindal has put all his marbles into winning Iowa. This week, a new NBC/Wall Street Journal/Marist poll shows him moving up and tied at 6 percent with Rubio and Senator Ted Cruz of Texas in the first caucus state. Yet, under CNBC's debate rules, a candidate's showing in the national polls is what matters, not the early states. Thus, the little-known Jindal won't be on the main stage, while Rubio, Cruz, and several other candidates polling below them in Iowa will make the cut.
Political analyst Eric Fehrnstrom for the Boston Globe: But winning Iowa can catapult a candidate into the spotlight and put him on the road to more victories. Jindal needs his opportunity on the main stage ...Last year, when the new rules governing debates were passed, Priebus said, "the mainstream media is no longer in charge." But that can't be true if what's happening at the grass roots takes a back seat to the media's arbitrary decrees.
Shane Vander Heart, Iowa's Caffeinated Thoughts: Current Debate Process Doing Voters a Disservice
Shane Vander Heart, Iowa's Caffeinated Thoughts: The process that the Republican National Committee has thrust onto the 2016 Republican field is doing voters a disservice.
Shane Vander Heart, Iowa's Caffeinated Thoughts: Jindal is a policy wonk. He stands out in terms of offering substantive domestic policy positions. His experience runs deep and his presence on the primetime debate stage would enhance a discussion on those issues and expose Americans to a sound, experienced candidate.
Stuart Rothenberg in Roll Call: Early Iowa Presidential Polls a Better Predictor Than National Ones
Stuart Rothenberg, Roll Call: ... if history is any guide, early national polls are far less valuable in understanding what is happening in the presidential contest than are reliable surveys of Iowa voters, such as the NBC News/Wall Street Journal/Marist polls.
Stuart Rothenberg, Roll Call: Iowans get the first glimpses of the candidates up close, and they take their role as the first step in the party nominating process remarkably seriously. Given that, their opinions are more informed than are those of most Americans, who pay far less attention to politics and who have not seen the candidates close-up.
Stuart Rothenberg, Roll Call: National polls... they tend to be over-valued by those in the national media and behind the curve compared to public opinion trends in Iowa. So if you want to know not only where the race is now but also where it is going, pay particular attention to Iowa surveys from proven pollsters over the next four months.
Ben Domenech, The Federalist: Preventing Jindal from Joining Main Stage Unfair
Jindal tied with Rubio and Cruz in Iowa - lack of national name ID preventing him from joining main debate stage. Unfair.

— Ben Domenech (@bdomenech) October 4, 2015
Bobby Jindal, Press Release - What They Are Saying About #LetBobbyDebate Online by Gerhard Peters and John T. Woolley, The American Presidency Project https://www.presidency.ucsb.edu/node/312293