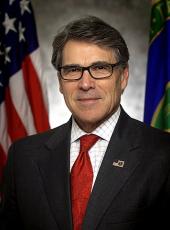 Press Release - What Texas Business Leaders Are Saying About the Lone Star State's Business Climate
Ross Perot Jr.
"Gov. Perry has been in office 11 years, and with low taxes and predictable regulation, he has created a cooperative atmosphere that resulted in a unique partnership between business and our state government."
Bill Hammond, President and CEO, Texas Association of Business
"Texas is the number one state in the nation to do business because we understand that the key to a good economy is implementing policies that invite employers to invest and create jobs, which in turn create opportunity and wealth for our citizens. Businesses expand in Texas or relocate here because of the reasonable cost of doing business, streamlined regulations, an educated workforce and laws that limit frivolous lawsuits. Under Gov. Perry's leadership, we have sharpened our competitive edge, and the Texas economy is succeeding as a result."
Linda McKenna, President and CEO, Rio Grande Valley Partnership, Weslaco
"Employers continue to look to Texas first when it comes to relocating or expanding their operations, and that's because our state has the climate they need to thrive: low taxes, reasonable regulations, and a fair and predictable legal climate. Gov. Rick Perry and state lawmakers have been committed to these priorities, and just this year adopted loser pays legislation that will build on our state's successful lawsuit reforms so that job creators can continue to create jobs instead of battling junk lawsuits and lawsuit abuse."
Adrian A. Arriaga, CCIM, CIPS, AAA Real Estate & Investments
"Rick Perry's commitment to small business runs deep. One of his first initiatives as lieutenant governor, to create the Texas Small Business Advisory Council, set a firm foundation for the exceptional business climate we have enjoyed in Texas under Gov. Perry's tenure. In politics, some talk a big game, but when it comes to matters important to small business owners, Gov. Perry follows up with action. He understands the challenges of small business owners, and is committed to accomplishing what will help them thrive."
Dick Weekley, Chairman and CEO, Texans for Lawsuit Reform
"Gov. Perry is the strongest tort reform governor in the nation. His commitment to lawsuit reform has been strong, consistent and exceptionally effective. During his tenure as governor and with his leadership, Texas has enacted the most comprehensive lawsuit reforms in our nation's history. These reforms have strengthened our economy, created new jobs for Texans, improved access to health care and restored public trust to our courts. Further, Gov. Perry has appointed exemplary judges to Texas courts who are honest, competent and conservative. "
Dwight Hale, 2011 Chairman, Texas Association of REALTORS
"Gov. Perry's record on maintaining a pro-business climate in Texas is unparalleled among his contemporaries. Texas enjoys a vibrant and diverse economy because of his dedication to keeping the free-enterprise system strong, and government intervention at a minimum. Business leaders tout Gov. Perry's commitment to a predictable regulatory climate and a non-volatile, low-rate, and broad-based tax structure as primary reasons the Lone Star State is considered so business friendly."
Bobby Jenkins, President, ABC Home and Commercial Services
"Texas is hands down the best state in the U.S. to do business and it's because of our leaders' ongoing commitment to upholding a climate that is friendly to entrepreneurs and job building. This frees us to invest our capital and to grow our businesses, which means more jobs and greater opportunity for Texans."
Jon Smiley, President, iON Constructors, Austin
"Due to the state's proven commitment to job creation, my company chooses to do business in Texas. I am comforted by the assurance that in Texas our efforts won't be undermined by arbitrary anti-business rules or unnecessary red tape. Compared to other states, Texas has a strong and business-friendly economy. This results in a strong workforce from which we can find skilled individuals who help our business thrive. I'm not aware of another state that has the kind of momentum or energy that we enjoy here in Texas. I firmly believe Gov. Perry's leadership is responsible for this attitude and environment."
Mike Scott, Vice President, H&S Constructors, Inc., Corpus Christi
"Because of Texas' reasonable regulatory climate, my business doesn't have to spend critical resources trying to meet unpredictable standards just to operate. The predictability of doing business in Texas, combined with our state's outstanding quality of life, low taxes and common sense lawsuit reforms allows us to focus on growing our company, creating jobs for Texas families and contributing to this nation's economy. Texas truly is the best place in the nation to do business."
Rick Perry, Press Release - What Texas Business Leaders Are Saying About the Lone Star State's Business Climate Online by Gerhard Peters and John T. Woolley, The American Presidency Project https://www.presidency.ucsb.edu/node/298143