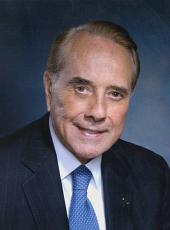 Press Release - Webwire-Bill Bennett's Statement on Massive Rise in Student Drug Use
William J. Bennett, former Bush Drug Czar and National Co- Chairman of the Dole/Kemp '96 campaign, today released the following statement on the new PRIDE survey showing a massive rise in drug use among students under the Clinton Administration.
"Data released today is yet more evidence that drug use among young people is way up. PRIDE, the Atlanta-based drug prevention organization, reports that student drug use has reached its highest level in nine years. More than one in four high school seniors (26.51%) has used an illicit drug once a month or more often during the past school year, and when they used drugs, they got more intoxicated than ever.
"This new information follows the huge increase in drug use reported last month by the National Household Survey on @ Abuse. That study showed that overall drug use among 12 to 17 year-olds rose 105 percent between 1992 and 1995, and 33 percent just between 1994 and 1995. These studies and others confirm that the news on drug use in not good.
"Since 1992, we have watched the number of young drug users go up -- way up -- year after year. This has occurred after a reduction of overall drug use of more than 50 percent between 1979 (the peak) and 1992 and a reduction of almost 80 percent in cocaine use between 1985 (the peak for cocaine) and 1992.
"Obviously there are a number of factors which influence drug use. Some are cultural and some are political. But we do know this: when it comes to drugs, the President is responsible for federal policy and providing national leadership. And on both counts, Bill Clinton has failed. He ought to be held accountable for it.
"There has been a well-documented and complete failure of public policy. But make no mistake: there is more involved here. Public policy, after all, is a manifestation of attitude. And the 'root cause' of the Clinton administration's abdication in the battle against illegal drug use is moral confusion and moral weakness.
"The Clinton administration, for whatever reason, is cavalier, unengaged, and unconcerned about illegal drugs. It is unwilling to take a strong and unambiguous stand against drug use. Democratic Congressman Charles Rangel expressed the opinion of many when he said, 'I've been in Congress over two decades, and I have never, never, never found any administration that's been so silent on this great challenge illegal drug use to the American people.' The motto of the Clinton administration seems to be, 'We just don't care' -- and so they are unwilling to act in responsible and effective ways. Unfortunately, this nation is paying a very heavy price for the Clinton administration's diffidence. in terms of wrecked and lost lives.
"Even before today's news, we knew that since Bill Clinton became president the nation has suffered the greatest increase in teen drug use and the largest expansion in the supply of illegal drugs ever measured. The Clinton administration keeps adding to its infamy, Fighting the drug epidemic requires courage, intelligence, determination, and above all, moral clarity. Moral clarity is precisely what is missing at the top of this administration, as well as among the White House staff.
"As President, Bob Dole will provide the moral and policy leadership needed to stem this rising tide of teen drug use. With Bob Dole in the White House, America's parents need never again worry that their children are receiving mixed messages about the dangers of illegal drugs."
-- William J. Bennett
Robert Dole, Press Release - Webwire-Bill Bennett's Statement on Massive Rise in Student Drug Use Online by Gerhard Peters and John T. Woolley, The American Presidency Project https://www.presidency.ucsb.edu/node/316528