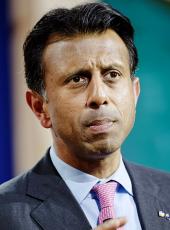 Press Release - We Endorse Louisiana Governor Bobby Jindal for President
President Barack Obama kept his promise eight years ago that he would fundamentally transform America. He certainly has, but not for the better. Our national debt has skyrocketed. Our Constitution has been largely ignored, and our nation has become a nation governed by rule and court opinion rather than by law. We have seen incredible encroachment by our government into our liberty, in particular religious liberty, and it appears that it will only get worse.
We face extraordinary times, so our nation needs an extraordinary leader.
Looking for this leader has been a difficult process, but not because of a lack of choices. To the contrary, the current GOP field of presidential candidates is the strongest we've seen in decades. There are a number of candidates we believe could serve with distinction and honor in the White House, but there is one who we believe stands out.
Caffeinated Thoughts is proud to endorse Louisiana Governor Bobby Jindal for President of the United States.
Governor Jindal has an impressive resume by any standard, but considering he is 44-years-old it is truly remarkable. Graduating from Brown University as a double major with honors at the age of 20, Jindal went on to study as a Rhodes scholar at Oxford University where he would later earn his master's degree. Jindal, at the age of 24, was appointed head of Louisiana's Department of Health and Hospitals. He was later appointed by President George W. Bush as Assistant Secretary of Health and Human Services. He served two terms representing Louisiana's 1st Congressional District in the U.S. House of Representatives after which he was elected Governor of Louisiana and is currently serving his second term.
Jindal speaks of a seven-year long spiritual journey that began while he was in high school, and, at Brown University, culminated in a personal faith and acceptance of Jesus Christ as Lord and Savior. He freely speaks of the realization that he had that Christ died for sin not in some generic way, but for him and his sin personally. He points to the time of that realization as the "most important moment in my life." Having such a clear profession of faith in Christ is something that we are pleased to see in a presidential candidate.
Jindal also makes it plain that his faith is not something that he keeps put away except for Sundays. His worldview is built upon his faith, and his governance is guided by his worldview. An example of that is his support of the Louisiana Marriage and Conscience Act, in which protections would be given to individuals or businesses who oppose same-sex marriage. A number of corporations opposing the bill expressed their disapproval to him, but his reply was firm: "They are free to voice their opinions, but they will not deter me."
According to the Cato Institute, of the governors that were or still are GOP candidates for the presidential nomination, Jindal is the only one that has actually cut spending in his state. Cato Budget Analyst Nicole Kaeding wrote this: "Louisiana general fund spending has fallen during Bobby Jindal's tenure as governor. At a time when states were increasing spending, Jindal instituted reforms that cut the state workforce and lowered per capita spending. This feat makes Jindal unique among Republican contenders for the presidency." We are confident that when Jindal says he intends to reduce federal spending, he will succeed in getting it done. He has a unique credibility in that regard.
Louisiana, under his leadership, was named by Americans United for Life as the most pro-life state in the nation six years in a row. He has signed numerous pro-life bills as Governor that led to his state's status. In light of recent videos exposing Planned Parenthood's involvement in harvesting fetal body parts for profit, Jindal ordered an investigation of Planned Parenthood. He also rescinded Medicaid contracts his state had with the abortion provider that fully defunded Planned Parenthood of all taxpayer funds that provided a model for governors in other states to follow. He has stood and fought in federal court over his decision, and we applaud the fortitude he has shown that is unfortunately rare among many governors and in Washington, DC.
With Jindal at the helm, Louisiana has consistently been graded an A+ by the National Rifle Association. As Governor he signed legislation that strengthened Louisiana's stand your ground and castle doctrine laws. In 2012 Louisiana also passed its own constitutional amendment guaranteeing the right to keep and bear arms. As a member of Congress, Jindal received the NRA's Harlon B. Carter award for working to address gun confiscations that took place in New Orleans after Hurricane Katrina in order to prevent them from happening again.
Bobby Jindal, Press Release - We Endorse Louisiana Governor Bobby Jindal for President Online by Gerhard Peters and John T. Woolley, The American Presidency Project https://www.presidency.ucsb.edu/node/311768