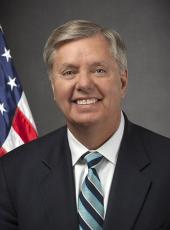 Press Release - Wall Street Journal: Lindsey Graham: Obama Will Never Strike a Satisfactory Iran Nuclear Talks Deal
Lindsey Graham: Obama Will Never Strike a Satisfactory Iran Nuclear Talks Deal

By Reid Epstein

July 8, 2015
Sen. Lindsey Graham said Wednesday that President Barack Obama will never achieve a satisfactory nuclear deal with Iran and that the best outcome for the U.S. would be for the negotiations with the Middle Eastern power to drag out until the next president is in office.
In an interview with Wall Street Journal reporters and editors, the South Carolina Republican said every 2016 Republican presidential candidate save Sen. Rand Paul - and even leading Democrat Hillary Clinton too - would strike a better deal with Iran than would Mr. Obama.
...
On how he differs from leading Republican presidential candidates on Iran and Middle East policy
"I really don't know exactly where everybody's at. [Wisconsin Gov.] Scott Walker, I don't know where he's at. He said he's not going to be for an open-ended commitment when it comes to sending troops. Well, I am. My policy toward radical Islam is pretty simple: Whatever it takes, as long as it takes until we defeat them. So when he says he's not for an open-ended commitment I don't know what that means. It means he's hesitant. I'm not.
"When it comes to Syria, Jeb and Marco and all these guys need to step up. What are you going to do? Are you going to impose a no-fly zone? I would do it the first day on the job. Assad's going to go standing up or sitting down. Because you can't fix Syria and the Mid-East until you fix Syria. So I would put on the table American troops would go in with Arab armies. The bulk of the force would be the Turks, the Egyptians, the Saudis and others in the region. You're talking about 30 to 40,000, at least, [ISLAMIC STATE] guys in Syria, it's going to take a big army to pull them up. We'd probably need around 10,000 of our guys and 70 or 80,000 of their guys to go in and have a decisive edge over [ISLAMIC STATE]."
Lindsey Graham, Press Release - Wall Street Journal: Lindsey Graham: Obama Will Never Strike a Satisfactory Iran Nuclear Talks Deal Online by Gerhard Peters and John T. Woolley, The American Presidency Project https://www.presidency.ucsb.edu/node/312537