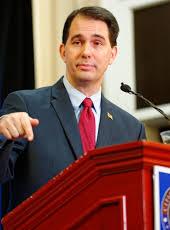 Press Release - Walker Responds to Democratic Panic Over His Labor Plan
Simi Valley, CA -- Yesterday Gov. Scott Walker introduced his "Power to the People" labor reform plan, a comprehensive approach designed to end the corrosive influence big-labor has on our economy and our government. Predictably, Democrats and their special interest allies reacted with hysteria. Perhaps that's because they know what happened the last time they picked a fight with Gov. Walker over labor issues.
Today Gov. Walker responded with the following statement: "Growing the economy requires a comprehensive approach, and the labor reforms we've introduced are a key part of this equation. Our plan will focus the federal government's role to ensure that special-interest loopholes are closed, long-standing democratic principles are preserved, and employees and taxpayers are protected. Democrats and union bosses are panicking because I want to end the special treatment and taxpayer-funded giveaways they've benefited from for years, and they know I'll deliver results for hardworking families no matter who stands in the way."
See the highlights below of other Democrats and special interests reacting to Gov. Walker's plan.
Hillary Clinton did not take kindly to the threat to the special interests she represents, tweeting:

.@HillaryClinton: Unions help keep working families strong. Scott Walker's attacks on unions and workers' rights aren't leadership—they're bullying - H
Walker responded with a zinger:

@ScottWalker: .@HillaryClinton Actually, we're protecting the American worker from being forced to support candidates like you - SW
Obama Administration:

@sbauerAP: .@PressSec says of @ScottWalker union plan: "Based on his record, I would suspect it may not be a proposal on which we entirely agree."
National Treasury Employees Union:

AP: "Union leaders are livid. Tony Reardon, president of the National Treasury Employees Union that represents 150,000 federal workers, said Walker is 'declaring a war on middle-class workers.'" (Scott Bauer - September 14, 2015)
AFL-CIO:

AP: "The reaction from labor groups and Democrats, their traditional political ally, was fierce. 'Scott Walker can now add one-trick pony to his resume, right underneath national disgrace,' said AFL-CIO spokesman Eric Hauser." (Scott Bauer - September 14, 2015)
Bernie Sanders:

@danmericaCNN: Bernie Sanders on @ScottWalker's union proposal: "Gov. Walker's proposal would move us in exactly the wrong direction."
@gdebenedetti: Really rare for Sanders to issue standalone statements against specific Rs—a sign of how big this issue is for him.
Martin O'Malley:

@MartinOMalley: .@ScottWalker No. This would hurt families across America. If we want wages to go up, we must make it easier to join unions—not harder. -O'M
Russ Feingold:

@sbauerAP: Democratic Senate candidate @russfeingold says @ScottWalker anti-union plan would "have dire consequences for millions"
Scott Walker, Press Release - Walker Responds to Democratic Panic Over His Labor Plan Online by Gerhard Peters and John T. Woolley, The American Presidency Project https://www.presidency.ucsb.edu/node/312209