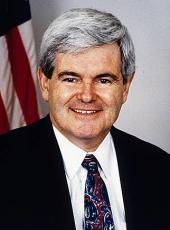 Press Release - Video: Newt Speaks to Packed House at Rep. Tim Scott's Townhall
A crowd of nearly 800 ignored the rain and made their way to the historic Sottile Theater at the College of Charleston last night to see Newt Gingrich participate in Tim Scott's Presidential Town Hall Series. Rep. Scott has now hosted six contenders for the Republican nomination in a format that uses questions submitted by the voters and moderated by Scott. The Gingrich event was the largest by far, drawing twice as many attendees as any of the others. More than 100 were turned away by fire marshals because there was not enough space.
The Charleston Post and Courier noted that it was the largest political event in their area so far in 2012.
Presidential hopeful Newt Gingrich spent a rainy Monday meeting with key Republican groups across the Lowcountry, selling himself anew to many who considered his campaign dead in the water just months ago.

At day's end, he joined U.S. Rep. Tim Scott at a College of Charleston Bully Pulpit event that filled more than 700 seats of the college's Sottile Theatre -- the biggest local event so far in the 2012 election cycle.

...

Berkeley County GOP Chairman Tim Callanan said he's been hearing a lot of positive feedback about Gingrich.

"I think he's got a good team in place in South Carolina to really make some traction," Callanan said, adding that polls show the state's voters are still bouncing around looking for a more consistently conservative alternative to former Massachusetts Gov. Mitt Romney.

"If he (Gingrich) keeps talking about solutions versus complaining about the problems, that seems to be resonating with folks. That's clearly what drew people to (Georgia restaurant executive) Herman Cain originally, and I think that's what's drawing people to Gingrich now," he said.
Human Events wrote that Newt masterfully defended American Exceptionalism and offered an optimistic vision for America's future that mesmorized the crowd.
Gingrich also spoke emphatically of American sovereignty and how the American experience is unique because citizens loan the government rights that they were given by God.

His embrace of American exceptionalism gives him leeway when it comes to his personal and political baggage, especially in a cycle that seems to lack a candidate who not only is a compelling orator but is also fluent in speaking of American exceptionalism in ways that move the conservative primary electorate.

"America is magic," Gingrich said toward the end of the town hall. "We really do believe we can be a city upon a hill … we really do believe we have been endowed by our Creator."

And keeping with his promise of running a positive and optimistic campaign, Gingrich told students in South Carolina that may be down on America's prospects to not give in to the naysayers.

Gingrich said he was bullish on America this century and simply said that when it comes to America, the world should heed these words: "You ain't seen nothing yet."
The Patch observed that Newt received several standing ovations and thunderous applause. Here is a list of some of the highlights.
If applause is any indication on what voters are reacting to from the former Speaker, here is a long laundry list of his hits during Monday's town hall in Charleston:

Defunding the National Labor Relations Board until a new board is seated.
"The government is subject to you."
Defunding cities that declare themselves as "sanctuary cities" for illegal immigrants.
Defending the United States as part of the president's role.
"Dramatically shrink the Department of Education."
Students should get the grades they earn and teachers should have the right to discipline unruly children.
"There's no good bills at page 2,600."
Citing Obama's debt-forgiveness plan for college students as ineffective.
"I don't think you can fix (the EPA)."
"If you don't have common sense, don't apply here (at new Environmental Solutions Agency)."
"Waterboarding, by every technical rule, is not torture."
"We're not going to be intimidated in not defending the United States of America by the ACLU."
Using litigation reform to ebb medical costs.
Establishing English as the official language of the U.S. government.
Ensuring immigrants gaining citizenship have "a serious understanding" of U.S. history.
Making deportation easier and not giving illegal immigrants the same rights as American citizens.
"There's no illegal worker without an illegal employer."
"(A 12.5 percent corporate rate) would actually mean that GE would pay taxes."
Abolishing the "Death Tax."
Repealing Dodd-Frank.
Replacing the Food and Drug Administration.
Putting a sign behind him after the inauguration that reads "America is open for business again."
Saying Rep. Tim Scott was on his "short list" of running mates.
"We have no opponents except Barack Obama."
"We will be back. You ain't seen nothing yet."
Newt Gingrich, Press Release - Video: Newt Speaks to Packed House at Rep. Tim Scott's Townhall Online by Gerhard Peters and John T. Woolley, The American Presidency Project https://www.presidency.ucsb.edu/node/298761