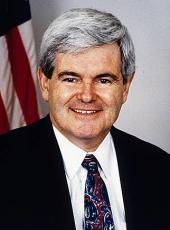 Press Release - Video: Highlights of Newt at CBS/National Journal Foreign Policy Debate
Here is a sample of the reaction to Newt's clear and substantive performance tonight at Wofford College in Spartanburg, SC.
John Podhoretz, New York Post:
The winner of last night's Republican presidential debate on foreign policy was, without question, Newt Gingrich, who has spent the last six weeks staging a clinic for all future politicians on how to talk about ideas to a general audience.
Marc Theissen, National Review:
Newt had a very good night as well. In addition to smacking down Pelley on killing terrorists, he refused to take the bait in Pelley's effort to start a fight between him and Romney. He was clear and articulate and will only enhance his growing following with his performance.
Susan Ferrechio, Washington Examiner:
...former House Speaker Newt Gingrich stole the show by schooling debate moderators on terrorist assassinations and refusing their efforts to get him to criticize frontrunner Mitt Romney.
Aaron Goldstein, American Spectator:
As with previous debates, [Gingrich] displayed his encyclopedic knowledge of policy and was diplomatic with his rivals and confrontational with the media (i.e. his row with Scott Pelley over the assassination of Anwar al-Awlaki.) His momentum will continue to swing upward.
Newt Gingrich? came into the CBS/National Journal debate on Saturday night with the most momentum, having surged into second place in numerous national and state polls in the last week. He left the debate with his momentum in tact, but his performance underscored something else: Gingrich showed he has what it takes to win South Carolina.
Kevin Hall, The Iowa Republican:
Once again, the former House Speaker commanded the stage better than anyone else. He provided strong, substantive issues. Gingrich projects an aura that he knows the issues better than anyone else. Probably because he does know better. It was another very good performance.
Zeke Miller, Business Insider:
Former Speaker of the House Newt Gingrich delivered yet another strong debate performance Saturday night in the CBS/National Journal foreign policy debate in South Carolina, overshadowing the rest of the Republican field.

Gingrich, who has honed his policy positions over decades in public life, was predicted to perform well, but he seemed to outpace even those high expectations. The college professor provided sweeping history lessons and pointed soundbites that energized the audience — and praise from many of his fellow candidates.
As usual, Newt was pitch perfect on knowing policy and his answers showed that. Another exceptionally strong showing for Gingrich, and if his star is truly rising as the next "Anti-Romney" he certainly continued to help his cause last night.
Every debate attendee who stopped to talk to Patch following the event in Spartanburg said the night belonged primarily to Gingrich.
Newt Gingrich, Press Release - Video: Highlights of Newt at CBS/National Journal Foreign Policy Debate Online by Gerhard Peters and John T. Woolley, The American Presidency Project https://www.presidency.ucsb.edu/node/298440