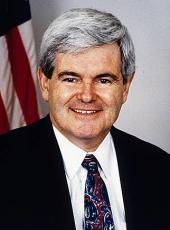 Press Release - Video: Gingrich: Nation Needs New Energy Policy
Newt discussed energy policy today in South Carolina, encouraging a more robust energy development agenda to create jobs and lower prices.
Also, the AP was there and filed this report:
CHARLESTON, S.C. - America needs a new energy policy designed to develop domestic fuel, including natural gas off the South Carolina coast, former House Speaker and Republican presidential candidate Newt Gingrich said Wednesday in the state with the South's first GOP primary.

"We have to reset our energy policy starting with oil and gas offshore," Gingrich told about 120 executives of the state's electric cooperatives.

"We have natural gas deposits right off South Carolina. You could have an entire industry right now — high-value jobs both on-shore providing and supporting the natural gas and offshore developing. You could look far enough offshore and have ground rules so it doesn't affect tourism," he added.

Gingrich, on the second day of a two-day campaign visit to the state, criticized President Barack Obama for saying the United States wants to be a "major customer" for huge reserves of oil recently found off the coast of Brazil.

"You want the president not to be a purchasing agent going around the world telling other countries we want to buy from them. The president has to be a salesman going around the world telling other counties we want them to buy from us," Gingrich said.

Leaders of South Carolina's $18.4 billion tourism industry generally oppose oil drilling off the coast because of concerns spills could damage beaches that draw visitors.

Natural gas, brought to shore through underwater pipes, is considered less of a threat.

Geologists have said little has been found in searches for oil off the coast.

But the Southeast Energy Alliance, a nonprofit business and trade group, has said a new generation of seismic studies could result in higher estimates of what is available. The alliance estimates oil and natural gas could mean 2,250 jobs for South Carolina.

Asked later about the dangers of offshore drilling, Gingrich said there is always the mathematical chance of accidents such as the nuclear accident at Three Mile Island and last year's Gulf of Mexico oil spill.

"This is a fact of modern life," he said, adding the nation needs a disaster response system with equipment to handle spills like that in the Gulf.

"We had to borrow from the Japanese and from the Dutch and it took weeks because initially we wouldn't accept it," he said. "This should be part of an offshore drilling system to say we want to build the best recovery systems in the world."
Newt Gingrich, Press Release - Video: Gingrich: Nation Needs New Energy Policy Online by Gerhard Peters and John T. Woolley, The American Presidency Project https://www.presidency.ucsb.edu/node/298765