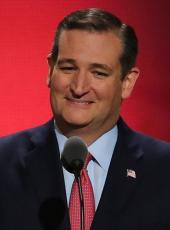 Press Release - VIDEO: Cruz: Our enemies are not tired of killing us; We need a commander in chief who says we will defeat radical Islamic terrorism
Cruz campaign releases video highlighting Cruz response to Paris terror attacks
HOUSTON, Texas – The Cruz for President campaign today released a video highlighting Ted Cruz's response to the ISIS terror attacks in Paris and what the U.S. should do to defeat radical Islamic terrorism.
Cruz insists we can't effectively fight ISIS with a President who refuses to utter the words "radical Islamic terrorism." He calls for the United States to stop bringing in refugees from Syria as long as our intelligence cannot determine who may or may not be a terrorist. He has also repeatedly called for the passage of his bill, the Expatriate Terrorist Act, which will rescind citizenship from any American that travels abroad to join ISIS or any other designated terrorist group..
Cruz states that in order to defeat ISIS, we need to utilize overwhelming air power – far more than current levels – and arm the Kurdish Peshmerga fighters, who are serving as boots on the ground in the region.
Transcript of Cruz's words in the video, excerpted from his recent interview on Fox and Friends:
We stand in solidarity with the people of France, with President Hollande, with the families of all of the victims of these acts of horrific terrorism.
These attacks underscore that we are facing an enemy who is fierce, who is relentless, who is at war with us even if our own president doesn't understand that it is at war with us.
As long as we have a Commander-in-Chief unwilling even to utter the words radical Islamic terrorism, we will not have a concerted effort to defeat these radicals before they continue to murder more and more innocents.
And they're getting stronger. Every region on earth has gotten worse under the Obama-Clinton foreign policy.
I recognize that Barack Obama does not wish to defend this country. That he may have been tired of war, but our enemies are not tired of killing us.
This will be coming to America. ISIS plans to bring these acts of terror to America.
It makes no sense whatsoever for us to be bringing in refugees who our intelligence cannot determine if they are terrorists here to kill us or not.
Congress needs to pass immediately the Expatriate Terrorist Act legislation that I've introduced that says that any American that travels abroad, that joins ISIS that takes up arms and wages jihad against America, they immediately forfeit their citizenship.
We need a commander in chief who says we will defeat radical Islamic terrorism. Let me tell you what that would look like.
In a Cruz Administration we would be using overwhelming air power and the Kurds as our boots on the ground, and it would be clear to any militant on the face of the earth if you go and join ISIS, if you wage jihad against America, you're signing your death warrant.
Ted Cruz, Press Release - VIDEO: Cruz: Our enemies are not tired of killing us; We need a commander in chief who says we will defeat radical Islamic terrorism Online by Gerhard Peters and John T. Woolley, The American Presidency Project https://www.presidency.ucsb.edu/node/315207