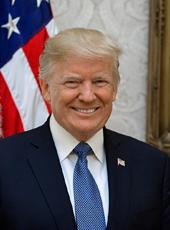 Press Release - Victims of Illegal Immigration Urge the Senate to Pass Legislation to Save American Lives
On Wednesday June 28, 2017, President Donald J. Trump met with American families whose loved ones were killed by illegal aliens. Many of these illegal aliens had extensive criminal records and had been repeatedly deported. During their meeting with the President, these American families urged the passage of two critical pieces of legislation that the President campaigned on. Both Kate's Law and the No Sanctuary for Criminals Act easily passed the House with bipartisan support. If enacted, the No Sanctuary for Criminals Act will cut federal grant money to cities that prevent law enforcement officers from turning over dangerous criminal aliens to federal authorities and Kate's Law will enhance criminal penalties for those who repeatedly reenter the country illegally. The President is now calling on the Senate to act swiftly to take up these bills, pass them, and send them to his desk for signature.

Every year, far too many Americans are victimized, assaulted, and killed by illegal aliens who have been removed from the country multiple times. Sanctuary cities are releasing violent criminals, including members of the bloodthirsty MS-13 gang, back onto our streets every single day. Innocent Americans are suffering unthinkable violence as a result of reckless policies. It is time for these tragedies to end.
Excerpts from personal stories told at the roundtable discussion:
Laura Wilkerson: "My son Joshua was eighteen years old and in November 2010, he was systematically tortured, brutally beaten, murdered, and then his body set on fire after death [by] somebody who shouldn't have been in this country. Josh was a good kid.... This is not about politics. This is about safety.... That's all it's about. Both parties should be on board with this. There shouldn't be any objection to it.... We don't want [any] other families to have to endure this. It's about public safety."
Julie Golvach: "[O]ur son, was the second of four shot that night and... we've lost everything. He was my only child. I want some action. If this ... ha[d] been done years ago, my son would still be here. I want action. I want some action so nobody else has to go through the loss that we feel."
Dan Golvach: "This is what some politicians in the country ha[ve] decided is acceptable for us. It's not acceptable. While these politicians are sitting at home on the holidays, all warm and cozy with their families, most of us [at this table] are at the cemetery. And it's just not acceptable."
Mary Ann Mendoza: "I'm tired of our politicians not caring about their fellow Americans. Why? When did it ever become more important to our elected officials to protect illegal criminals in our country and not care about us?"
Melissa Oliver-Storz: "The man that murdered my father was deported twice previously and returned to our country illegally. This senseless crime has affected my family ... in many ways that are unexplainable. The pain is tremendous and it's something we'll never get over. I think it is important that we focus on these laws and getting them passed.... We need our law enforcement officers to have more information about these people that are in our country illegally, so we can go ahead and get them detained, and so this can't happen to another family."
Juan Pina: "My daughter, Christy Sue Pina, she was murdered. She was strangled, stabbed, raped, [and] sodomized. Her nude body was thrown in an artichoke field in the winter. The person that did this ... had kidnapped another fourteen-year-old girl. He tortured her, got put in jail, he got out [on bail]. He went back to Mexico. This was in July of '87. In September, he came back. He kidnapped another one. Did the same thing.... He got put in jail again.... Went back to Mexico. Came back in '90. February 8th, they found my daughter out there in an artichoke field and he took off. They didn't catch him that time either. He left, but they had an idea who it was. A few months later, he came back [and] tried to kidnap a little twelve-year-old at seven o'clock in the morning on her way to school.... I'm my daughter's voice. [W]hat [the] President, here, is trying to do is the best thing ever.... I'm all for everything that you're doing.... Americans first. Americans first."
Michelle Root: "Why do we have to encounter any type of violence? And I'm sorry, but these laws that are trying to be passed? Most of them are common sense, and until this happened to me, I thought this is what was in place. And to find out it wasn't was terrifying to me...."
Sabine Durden: "I'm a legal immigrant, and I did it the right way. I came here knowing I wanted to be here. I had to go through all the steps ... and I'm proud to be a citizen now. And I had one son, Dominic. I brought him with me. That's all I got. He was my only child... Mr. President, since I had no family left, I wanted to commit suicide.... I wanted to be with my son. And on June 16, when you came down the escalator, and you mentioned those words 'illegal immigration,' I was walking through my living room and I dropped to my knees, because it was my little sign from God.... And a month later, I met you personally in Los Angeles. You were the only one that ever met with us, and became our voice.... So you're not only my hero, [and] my President, you are my lifesaver. I wouldn't be here without you. Thank you. And we need to pass these two laws. They need to be passed in [the] Senate... Stop wasting time, sign these bills, please."
Steve Ronnebeck: "My son was Grant Ronnebeck, 21 years old. He was killed January 22nd of 2015 by an illegal immigrant while he was working the overnight shift at his convenience store. Grant was killed because he wasn't counting change fast enough for a pack of cigarettes. Grant was just one of the kindest, nicest kids you will ever meet.... One thing that I think that you, Mr. President, realize [is] that every one of our children's deaths has been preventable. All ... the deaths of our loved ones ... [were] preventable. And Mr. President, Chairman Goodlatte, I think you guys realize that and that's why you're doing what you're doing and I want to thank you both for what you're doing. Passing these laws is instrumental. I don't think that I would wish the devastation that we've felt everyday on anyone.... [W]hen your child's death was preventable, it's even harder than if they were to die from cancer or something like that. It just—it rips part of you away that you'll never get back."
Donald J. Trump, Press Release - Victims of Illegal Immigration Urge the Senate to Pass Legislation to Save American Lives Online by Gerhard Peters and John T. Woolley, The American Presidency Project https://www.presidency.ucsb.edu/node/350971