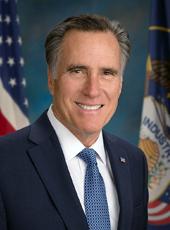 Press Release - Utah Leaders Endorse Governor Mitt Romney
FOR IMMEDIATE RELEASE

CONTACT: Kevin Madden (857) 288-6390
Salt Lake City, UT - Today, an overwhelming majority of the Utah State Legislature joined Governor Mitt Romney to endorse his candidacy for President of the United States of America.
Among those supporting Governor Romney are Lt. Governor Gary Herbert, 16 members of the Utah Senate and 40 members of the Utah House of Representatives.
"I am gratified to have the support of Lt. Governor Herbert and so many members of the Utah State Legislature," said Governor Romney. "Our country faces a new generation of challenges that will require the same kind of innovation and transformation we harnessed here at the 2002 Winter Olympics. Together, these men and women recognize that only by calling on the strength of the American people can we achieve a stronger and more prosperous nation."
Endorsing Governor Romney, Lt. Governor Herbert said, "Whether in the private or public sector, Governor Romney has a record of the strong leadership that our country needs. He is the right candidate to lead our Party and our nation. I am proud of be a part of his team."
Members Of The Utah Senate Supporting Governor Romney:
- Senate President John L. Valentine

- Majority Leader Curtis S. Bramble

- Majority Whip Dan R. Eastman

- Assistant Majority Whip Sheldon Killpack

- Senator D. Chris Buttars

- Senator Allen M. Christensen

- Senator Margaret Dayton

- Senator John W. (Bill) Hickman

- Senator Lyle W. Hillyard

- Senator Scott K. Jenkins

- Senator Peter C. Knudson

- Senator Mark B. Madsen

- Senator Howard A. Stephenson

- Senator Dennis E. Stowell

- Senator Kevin VanTassell

- Senator Carlene M. Walker
Members Of The Utah House Of Representatives Supporting Governor Romney:
- Speaker Greg J. Curtis

- Majority Leader David Clark

- Majority Whip Gordon E. Snow

- Assistant Majority Whip Brad L. Dee

- Rules Chair Stephen H. Urquhart

- Representative Douglas C. Aagard

- Representative Sylvia S. Andersen

- Representative Jim Bird

- Representative DeMar Bud Bowman

- Representative Melvin R. Brown

- Representative Stephen D. Clark

- Representative Bradley M. Daw

- Representative Glenn A. Donnelson

- Representative Jack Draxler

- Representative Ben C. Ferry

- Representative Julie Fisher

- Representative Craig A. Frank

- Representative Kevin S. Garn

- Representative Kerry W. Gibson

- Representative Keith Grover

- Representative Wayne A. Harper

- Representative Christopher N. Herrod

- Representative Kory M. Holdaway

- Representative Gregory H. Hughes

- Representative Fred Hunsaker

- Representative Eric K. Hutchings

- Representative Todd E. Kiser

- Representative Bradley G. Last

- Representative Steven R. Mascaro

- Representative John G. Mathis

- Representative Kay L. McIff

- Representative Ronda Rudd Menlove

- Representative Michael T. Morley

- Representative Michael E. Noel

- Representative Curtis Oda

- Representative Aaron Tilton

- Representative Mark W. Walker

- Representative Richard W. Wheeler

- Representative Carl Wimmer

- Representative Scott L. Wyatt
Mitt Romney, Press Release - Utah Leaders Endorse Governor Mitt Romney Online by Gerhard Peters and John T. Woolley, The American Presidency Project https://www.presidency.ucsb.edu/node/296634