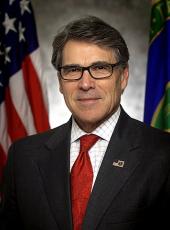 Press Release - U.S. Rep. Miller Endorses Gov. Perry for President
AUSTIN - Today U.S. Rep. Candice Miller (R-MI) endorsed Gov. Rick Perry in his campaign for president of the United States.
"It is clear that our nation needs new leadership. I have watched as the campaign for the Republican nomination has unfolded in search for the right person to lead our nation," Rep. Candice Miller said. "The most important factor in making my determination is who is best suited to bring fiscal sanity back to Washington and help build an environment where our economy can grow and new jobs can be created. Lots of candidates talk about job creation, but no one has delivered like Rick Perry. Since Rick Perry became governor, Texas has gained more than one million jobs — a stark contrast to the 2.4 million jobs America has lost on President Obama's watch. After careful consideration I have determined that Gov. Rick Perry is the leader we need to get Michigan and America working again."
"Rick Perry offers voters a clear contrast with President Obama's disastrous record of failure on job creation," said Rep. Miller. "The Perry record is less government spending, balanced budgets, less burdensome regulation, a lower tax burden and more jobs. The Obama record is millions unemployed, a stagnant economy and a crushing burden of government debt on our children and grandchildren. The choice in my mind is clear; Rick Perry is the right leader to get our nation back to work."
"In addition, the first and foremost responsibility of the federal government is to provide for our national defense. Through his service to our nation in uniform and his leadership as Commander-in-Chief of the Texas National Guard, Rick Perry has proven his commitment to defending this nation. I have full confidence in his ability to keep America the strongest nation on earth and to be a staunch defender of our freedom."
Miller's home state of Michigan is currently experiencing 10.9 percent unemployment, with the loss of much of its industrial base.
"I want to bring manufacturing back to the Midwest, and jobs back to American workers," said Gov. Perry. "I appreciate Rep. Miller's endorsement because she has been on the front lines in opposition to the Obama agenda that has failed to provide our citizens the opportunities they need. I know that she will be a staunch ally in the fight for lower taxes and smaller government so employers can flourish and create jobs. Job creation is critical to Michigan, and I am honored to have her support. I look forward to working with her as I campaign to earn the trust of the people of Michigan."
Rep. Miller was the first Republican in more than half a century to be elected to countywide office in Macomb County, a blue-collar region near Detroit that is sometimes referred to as the home of the Reagan Democrats. She was first elected to the U.S. House in 2002, and currently serves on the House Committee on Homeland Security and House Transportation and Infrastructure Committee.
Prior to serving in Congress, Miller was the first woman elected Secretary of State and the first Republican to win that office in 50 years.
Rick Perry, Press Release - U.S. Rep. Miller Endorses Gov. Perry for President Online by Gerhard Peters and John T. Woolley, The American Presidency Project https://www.presidency.ucsb.edu/node/297974