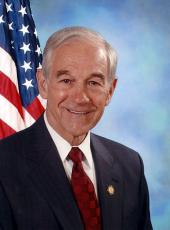 Press Release - U.S. Rep. Justin Amash of Michigan Endorses Ron Paul for the Presidency
Rising star, limited government advocate prefers Paul
LAKE JACKSON, Texas — The Ron Paul 2012 Presidential Campaign announced today that U.S. Rep. Justin Amash (R-MI) has endorsed Dr. Paul's candidacy for President of the United States.
Said Rep. Amash:
"No person in public office has done more to secure the liberty of the American people than Dr. Ron Paul.
"Time and again, Dr. Paul has been right, and the conventional wisdom has been wrong. For decades, he has warned about the dangers of deficit spending and government's reckless expansion of the money supply. He has warned about the unforeseen consequences of sending our troops into unnecessary wars. He has warned about sacrificing our freedoms for empty promises that government will protect us from harm.
"Long before millions joined his cause Dr. Paul realized that constitutional limits on government are the greatest achievement of the American people. He has refused to vote for unbalanced budgets, ever-expanding government powers over our personal lives, and short-term economic Band-Aids of which so many other politicians on both sides of the aisle are hopelessly enamored. Vote after vote, Dr. Paul has stood up for the regular American with no political connections and no one else to trust in government.
"Every day in Congress, I am reminded of our critical need for practical, honest, and humble public servants like Dr. Paul, who understand that well-meaning government actions can do both great good and great harm. He is a top contender for President of the United States, and his views have inspired a new generation of Republicans, including me, who have taken up the cause of liberty—the founding cause of the Republican Party. Dr. Paul is a mentor and an inspiration. It is my great privilege to endorse him for President."
Rep. Amash was elected to the House of Representatives on November 2, 2010, and serves on the Budget Committee and the Oversight and Government Reform Committee. Before his election to the House, he worked as an attorney and served as a Michigan state representative. Rep. Amash received his bachelor's degree with High Honors in Economics from the University of Michigan and his Juris Doctor from the University of Michigan Law School.
"Congressman Amash is one of the most principled, dynamic members of the new generation of House members. Upon his election to the people's House where today we are both privileged to serve, I was heartened by the election of someone so in tune with the values that will restore America to its roots as a nation more mindful of economic and personal liberty.
"Congressman Amash possesses a deep appreciation for the limits our cherished Constitution places on the federal government, making his endorsement an especially meaningful one for me," said Dr. Paul.
News of the Michigan congressman's endorsement comes prior to the grand opening celebration of Dr. Paul's Michigan headquarters, located at 122 South Main Street, Suite 110-C, in Ann Arbor. The event will feature a press conference followed by an all-day welcoming atmosphere for both volunteers and the at-large public.
The Ron Paul 2012 Presidential Campaign has selected Adam de Angeli to coordinate efforts in the state. Mr. De Angeli worked for Dr. Paul's 2008 presidential bid, where he developed software for the campaign's precinct leadership program.
Details of the grand opening event are as follows. All times Eastern.
Thursday, September 22, 2011
11:30 a.m. — Doors open, public welcome

12:00 p.m. — Ribbon cutting and press conference

12:30 p.m. — Open to the public and volunteers

6:00 p.m. — GOP debate-watching party
The campaign urges all volunteers to sign up on www.ronpaul2012.com/mi.
Ron Paul, Press Release - U.S. Rep. Justin Amash of Michigan Endorses Ron Paul for the Presidency Online by Gerhard Peters and John T. Woolley, The American Presidency Project https://www.presidency.ucsb.edu/node/299109