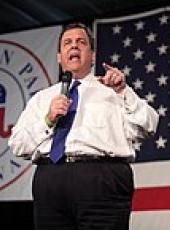 Press Release - Union Leader (Opinion) - Chris Christie is This Businessman's Pick for President
Chris Christie is this businessman's pick for President

Bill Greiner

New Hampshire Union Leader
I can remember as a senior in college in Massachusetts making the trek to New Hampshire with friends to meet candidates during the 1988 election cycle. Not much has changed since then in terms of the campaigning; to be successful one must embrace retail campaigning New Hampshire style, doing town halls and criss-crossing our state day after day to connect with voters and spread the word.
As an activist, businessman and former elected official, I take the New Hampshire primary very seriously. It allows candidates to be seen up close and personal, and it proves that there is more to this process than simply a name, a checkbook and a glitzy ad. Candidates have to be real, sincere and full of ideas, not simply attacks. In New Hampshire, we are fortunate to get to know the candidates beyond the headlines.
I have been able to meet many of the Republican candidates this cycle, certainly the ones I was interested in meeting and who had ideas and plans that addressed some of the many problems that we face now as a country, as well as ones that are just down the road. The candidate I feel would best lead this country is Gov. Chris Christie. While I kept an open mind during this process, my bias had been toward a governor or former governor because one thing is clear: we need our next leader to be someone with executive experience who can lead.
We also need our next leader to have a track record of being strong and principled, yet willing to compromise when necessary. For the past seven years, the word "compromise" has been non-existent in Washington. Gone are the days of bipartisanship and collaboration. Instead of tackling big issues such as the solvency of Social Security, immigration, drug addiction, the sustainability of Medicare, and ensuring that our country and citizens are safe, we have simply kicked the can down the road. We have a climate in Washington where some people feel that it is more important to win debates than to govern. This needs to stop.
Gov. Christie is the one person who can change the tone and the dialogue and get our great country back on track. As someone who wakes up every day in a very blue state, with a legislature that has been and will continue to be controlled by Democrats the entire time he is in office, Gov. Christie understands compromise and how to get things done in a bipartisan way. When he was first elected, he inherited a budget that had less than four months of revenue before all of the money ran out and obligations could not be met. His first order of business was to sit down with the Democrat leaders in his legislature and hammer out a reasonable budget that would not bankrupt his state.
During his time in office, Gov. Christie has continued to work in a bipartisan manner when possible and yet stand strong on principle when that is what was necessary. No governor has vetoed more tax increases in history than Chris Christie.
Gov. Christie rightly understands that more money is not always the answer. We need to make sure that the programs we have are working, and we have to make sure that the money we are spending is not simply wasted. Gov. Christie has been very specific on what he would do to improve public education, eliminate government waste and ensure that both Social Security and Medicare are around for the future. His plans are detailed on his campaign website.
Before Chris Christie was elected governor in New Jersey, he served over six years as U.S. Attorney for New Jersey. During that time he prosecuted terrorists who were set on bringing harm to America. He also brought forth 130 cases of political corruption, which resulted in 130 convictions.
Most of us are tired of simply hearing what is so wrong with our country; I want to hear how things will be addressed and what we can look forward to in the coming years. Gov. Christie is a tireless worker and a refreshing leader and will make a positive difference for our country. If you have not met Gov. Christie, you will have many opportunities in the coming months. Ask him the questions that matter to you, and then expect to get straight answers and not just political rhetoric. He is a straightforward as they come, and he is a refreshing candidate for President.
Chris Christie, Press Release - Union Leader (Opinion) - Chris Christie is This Businessman's Pick for President Online by Gerhard Peters and John T. Woolley, The American Presidency Project https://www.presidency.ucsb.edu/node/311710