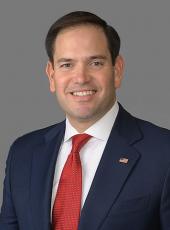 Press Release - Two Major MA Papers Just Endorsed Marco Rubio
Two major Massachusetts newspapers have endorsed Marco Rubio — and it's a good sign of how he can unite the Republican party.
First, the Boston Herald, Boston's conservative paper, endorsed Marco, commending him as a member of a new generation of conservatives:
It is clear that, in what is for all practical purposes a three-way race, U.S. Sen. Marco Rubio of Florida represents the Republicans' best hope to bring the party and the country together. The Herald is pleased to endorse him for the Republican nomination.

Consider that among South Carolina voters who said the ability to win in November mattered most, Rubio was miles ahead of his rivals. He was the top pick of voters who prioritized experience. A Cuban-American who has developed strong relationships within and outside of his own party, Rubio could be a demographic game-changer for the GOP. . . .

[And] Rubio happens to be an ideas kind of guy — solid on policy, too.

He has been a strong voice in favor of reducing the size of the federal government, while increasing accountability for government spending and promoting pro-business tax policies. He backs practical reforms to entitlement programs. He has called for "a return to the Constitution," in contrast to the current occupant of the White House, who is content to ignore that precious document when it suits his needs.
Then, the Springfield Republican, from the western end of the state, endorsed Marco too.
The editors explicitly said they don't agree with Marco on every issue, but they see him as the candidate who can stop Donald Trump and get our country back on track:
If primary voters in the Bay State (and elsewhere) can get behind Rubio, he'd likely have a good chance of defeating billionaire blowhard Trump for the GOP presidential nomination. And the party would be saved from having been taken over by an entertainer whose entire campaign has been based on empty promises. And a cult of personality.

Rubio, in other words, is the GOP's last, best hope to stop the Trump train before it gathers so much steam that it cannot be halted.

Elections are best when they offer a choice between two competing, clearly articulated visions of the future. If Rubio emerges as the Republican nominee, that would be the case, whether he ultimately faces Hillary Clinton or Bernie Sanders in November.
Marco Rubio, Press Release - Two Major MA Papers Just Endorsed Marco Rubio Online by Gerhard Peters and John T. Woolley, The American Presidency Project https://www.presidency.ucsb.edu/node/325992