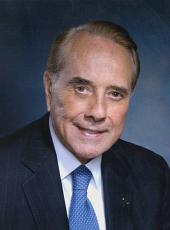 Press Release - "Trusting the People" to Arrive in Bookstores This Week
According to its publisher HarperCollins, Trusting the People: The Dole-Kemp Plan to Free the Economy and Create a Better America will arrive in bookstores this week. The book, a collection of writings by Republican presidential nominee Bob Dole and vice- presidential nominee Jack Kemp, offers the most detailed accounting ever provided of a presidential candidate's economic plan.
In simple, easy-to-understand terms, Trusting the People describes how the Dole-Kemp plan will both balance the budget and cut taxes to spur faster economic growth, increase wages, create jobs and opportunities, and ensure a better future for all Americans.
Without complex jargon, Bob Dole and Jack Kemp tackle the most complex economic issues facing our country today: the economic anxiety felt by every American workers, the low wages and job insecurity created by Clinton's stagnant economic "recovery and the tragic impact of Bill Clinton's massive S245 billion tax increase.
To escape Bill Clinton's high-tax, low-wage economy, Dole and Kemp outline the major elements of their plan: a Balanced Budget Amendment, a balanced budget by the year 2002, tax relief and fundamental tax reform, ending, the IRS as we know it, education and job training reform, and regulatory and lawsuit reform. The book describes the impact of Dole, and Kemp's proposed 15% across-the-board tax cut, the $ 500-per-child tax credit, the reduction in the capital gains tax, repeal of Bill Clinton's Social Security benefits tax, the expansion of Individual Retirement Accounts, and their education and job training incentives.
Trusting the People will show every taxpayer the personal financial impact of the choice they will make this November. It outlines an agenda for stronger economic growth, more jobs, lower taxes, smaller government, and more opportunity.
Trusting the People will be available in bookstore nationwide on Wednesday. The first-run print of the $ 15 hard-cover book will be 200,000 copies. This book is a normal commercial undertaking by the publishers, and neither the Dole-Kemp campaign nor the candidates are receiving any income from sales of the book.
Robert Dole, Press Release - "Trusting the People" to Arrive in Bookstores This Week Online by Gerhard Peters and John T. Woolley, The American Presidency Project https://www.presidency.ucsb.edu/node/316558