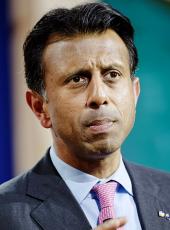 Press Release - Top Achievements as Governor
Government on a Diet:
When Bobby took office, Louisiana state government was bloated, inefficient and far too expansive. The Governor went to work trimming the excess and giving the taxpayer more bang for their buck. Since 2007, Bobby has cut state government workers by 34%; over 30,000 bureaucrats. Along with cutting unnecessary employees, Jindal cut the total overall Louisiana budget by 26%. The tough fiscal decisions the governor made have been rewarded with 8 consecutive credit upgrades, highest in recent state history.
Homecoming Dance:

In the 25 years leading up to the Jindal taking office, Louisiana kept losing citizens to neighboring states and beyond because jobs weren't available. Since Governor Jindal took office 7 years ago, the pattern of out migration has been reversed, with more people moving to Louisiana than leaving it. Today, Louisiana has more people living and working in the state than ever before, with the highest incomes in the history of the state. Conservative governing works.
Now Hiring:
Under his administration, economic development wins have resulted in more than 91,000 new jobs and more than $62 billion in private capital investment. Louisiana now ranks higher in every national business-climate ranking than it ever did prior to January 2008. Today in Louisiana, more than 2 million people are working — the highest number in Louisiana history.
School's in Session:

One of the lasting legacies of the Jindal years will be education reform. Children can only grow up once, so Bobby took on the tough task of implementing a major K-12 education system overhaul. Governor Jindal made education reform his top priority and pushed a bold plan to provide more choices for families, reward quality teachers, increase school accountability, and give school leaders more flexibility with funding and personnel. Louisiana now has a statewide school choice scholarship program that gives parents the option to remove their children from a failing school and enroll them in a new school of their choice. What resulted is nothing short of a miracle. The number of failing schools fell by 50% and high school graduation rates rose to an all-time high. The statistic that cannot be measured is the number of parents who are no longer scared for their children in school, or the number of children who are looking at furthering their education after graduation.
An Ethical Dilemma:
Louisiana has a checkered and colorful past when it comes to political corruption. Numerous politicians have been convicted of corruption, fraud and a litany of other charges. Businesses were afraid to invest in Louisiana because under corrupt state leaders, far too often, who you know is more important than what you know. Ethics was a top priority for Bobby and shortly after taking office he called a special session to address comprehensive ethics reform, immediately fulfilling a campaign promise and removing a blemish that had marked Louisiana for far too long. Since the conclusion of that special session, the Better Government Association and the Center for Public Integrity announced that Louisiana's new ethics laws are among the best in the nation.
Money Back Guarantee:

When wasteful spending gets reigned in, and a government starts to run efficiently and effectively, more money can stay with the taxpayer. In 2008, Governor Jindal enacted the largest single tax cut in Louisiana history by lowering income tax rates and restoring the full deduction for excess federal itemized personal deductions. This tax cut was estimated to save Louisiana taxpayers more than $1.1 billion over five years and save individual taxpayers as much as $500 per year. This was one of the dozens of times Bobby has cut burdensome taxes for the people and businesses of Louisiana. Governor Jindal has signed tax cuts into law totaling more than $2 billion.
Bobby Jindal, Press Release - Top Achievements as Governor Online by Gerhard Peters and John T. Woolley, The American Presidency Project https://www.presidency.ucsb.edu/node/311872