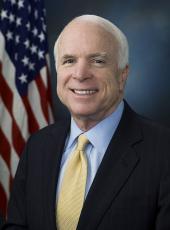 Press Release - Time For Action Tour: Day One
ARLINGTON, VA -- Today, John McCain will begin his "Time for Action Tour" by traveling through Alabama and visiting communities that have been forgotten and left behind but where hope, innovation and local solutions are helping to lift these communities up.
STOP #1: Selma, Alabama
In Selma, Senator McCain will give remarks outside the St. James Hotel with the historic Edmund Pettus Bridge in the background. It was at this bridge on March 7, 1965 that a threshold was crossed in the Civil Rights Movement.
Declaring the Civil Rights March from Selma to Montgomery a threat to public safety, Governor George Wallace ordered state and local authorities to stop the march. Using billy clubs and tear gas, between 500 and 600 peaceful civil rights protesters were prevented from crossing the Edmund Pettus Bridge. Two days later, Reverend Martin Luther King, Jr., joined by hundreds of Americans from across the country who were shocked by the images of what became known as Bloody Sunday, led a march across the bridge but turned the marchers around in order to comply with the court order prohibiting a march to Montgomery. But eleven days later with Judge Frank Minis Johnson, Jr.'s order, Rev. King led a five-day, four-night walk to Montgomery. Some 25,000 marchers reached Montgomery on March 25, 1965. Next to the State Capitol, Rev. King delivered his "How Long, Not Long" speech. Less than five months later President Lyndon B. Johnson signed the V oting Rights Act of 1965.
Selma's population is 19,265 (2006 census estimates). As of the 2000 census, the racial make-up was: 70% African American, 29% Caucasian, 0.1% Native American, 0.6% Asian, and 0.9% other. The median family income was $28,300 and 27% of families lived below the poverty line.
STOP #2: Boykin (Gee's Bend), Alabama
In Gee's Bend, Senator McCain will visit a community center where meals are provided for senior residents of Gee's Bend and the Gee's Bend Quilters gather to work. Their quilts have been exhibited in museums across the country and are praised as "some of the most miraculous works of modern art America has produced." And in 2006, the U.S. Post Office issued commemorative stamps with images of Gee's Bend quilts. Senator McCain will also visit with Mary Lee Bendolph, a life-long resident of Gee's Bend and the subject of the Los Angeles Times' 2000 Pulitzer Prize winning extended feature, "Crossing Over."
Isolated by the river, economic difficulties, and racial tensions, Gee's Bend is a very poor, rural community located southwest of Selma, Alabama. It is named for Joseph Gee, the first white planter to settle in Gee's Bend. And its population is largely descendants of slaves who were brought to Gee's Bend and remained as tenant farmers after emancipation.
The Alabama River hems in Gee's Bend on three sides causing travel to and from Gee's Bend to be difficult. Before 1962, there was either an unreliable ferry that entered from the east or a poor, muddy road that entered from the west. In 1962, the road became the only transportation route when ferry service was stopped because large numbers of residents began taking the ferry to Camden to register to vote. For the next forty-four years, in order to get to Camden residents of Gee's Bend would have to drive more than an hour.
In the 1990s, as a symbol of reconciliation between Gee's Bend and Camden, Hollis Curl, once a leading voice against the Civil Rights Movement, and Congressman Earl F. Hilliard, the first black representative from Alabama since 1876, joined together to advocate for the reestablishment of a ferry service. It wasn't until years later on September 18, 2006, ferry service was restored. We will make the journey to Thomasville on the Gee's Bend -- Camden Ferry.
Many residents of Gee's Bend are able to subsist with the help of welfare. The national interest in the Gee's Bend Quilts has helped revive the community and has provided many of the women real incomes.
Stop #3: Thomasville, Alabama
Senator McCain is traveling to Thomasville at the invitation of Mayor Sheldon Day. He will drive by the Thomasville Elementary School, drop-by the Thomasville High School and Middle School Assembly, and give remarks at Alabama Southern Community College.
Working with leaders from government, business, education, and medicine, Mayor Day is working to redefine Thomasville as a place for business to relocate.
Education is a key part of making Thomasville a model for rural development. In the fall of 2006, Thomasville High School in conjunction with Alabama Southern Community College implemented a workforce-training program. The Dual Enrollment Program allows high school students to enroll in "dual curriculum" classes at the college. This program is funded by scholarships and enables participating high school students to get a head start on their college degree. Courses in welding, manufacturing technology, and health care are offered. After graduating from high school, students have only one semester to complete before being "job ready." High schools from throughout the area are interested in establishing similar programs, but the college does not currently have the capacity to absorb the additional enrollment. Students graduating from the machinist/millwright program leave for jobs in the pulp and paper industry, one of the largest job p roviders in Thomasville, earning $50,000-$60,000 per year.
This past year, Thomasville High School in partnership with Southwest Alabama Healthcare Alliance added a Health Science program designed to prepare students for a career in the healthcare field. And this year, construction will begin on a new $35 million Southwest Alabama Medical Center -- a rarity in rural America.
Thomasville's population is 4,569 (2006 census estimates). The racial make-up was: 52% Caucasian, 46% African American, 0.1% Native American, 0.3% Asian, and 1% other. The median family income was $32,400 and 21% of families lived below the poverty line.
John McCain, Press Release - Time For Action Tour: Day One Online by Gerhard Peters and John T. Woolley, The American Presidency Project https://www.presidency.ucsb.edu/node/294340