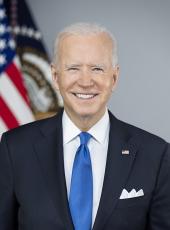 Press Release - This Week We Saw More and More Proof That President Biden's Economic Plan is Working
President Biden's economic plan to build from the bottom up and the middle out is working. America is getting back to work, and for the first time in decades, workers at the bottom are seeing the results. Since President Biden took office, there has been historic job growth – more than 3 million jobs created, and a monthly average of more than 600,000 new jobs – the most in any President's first five months.
The average number of new unemployment claims has been cut by more than half since President Biden took office, and in every metropolitan area across the country, unemployment has fallen compared to last year. Consumer confidence is now soaring and independent projections from the CBO, the IMF, the Federal Reserve, the World Bank, the OECD, and many others all forecast America this year reaching the highest levels of growth in nearly four decades. And recent data suggest that supply chain disruptions driving short-term price increases are beginning to resolve themselves.
Over the past week, we have seen continued evidence that President Biden's economic plan is working.
The U.S. economy has added more than 600,000 jobs per month since President Biden took office – for a total of more than 3 million -- including 850,000 jobs in June.
Updated projections from both the CBO and the IMF forecast record-setting economic growth for 2021 thanks to the President's economic policies, and the CBO showed declining unemployment and deficit projections.
The Consumer Confidence Index – a measure of consumers' assessments of the economy – is at its highest level since the onset of the pandemic in March 2020 as Americans see President Biden's economic plan delivering real results.
Unemployment Insurance claims fell to 364,000 this week – well below expectations – and the four-week average reached a new pandemic low of 392,750.
New data show the widespread benefits of the economic recovery – unemployment rates were lower in May than a year prior in all 389 metro areas and payroll jobs were up in 275 metro areas. 27 metro areas even had jobless rates of less than 3.0 percent.
Commodities data from this week indicate that supply chain discontinuities are improving and prices are normalizing as the economy gets back on track.
Analysis from leading financial institutions and independent government agencies indicate that inflation is transitory and that the long-term outlook for inflation remains within normal bounds.
Working Americans are seeing the benefits of President Biden's economic plan.
This week's jobs report showed that Americans are finding jobs at historic rates as the Biden economy booms. The June jobs report showed that the U.S. economy created 850,000 jobs in June, well above expectations. Since President Biden took office, the economy has created a total of more than 3 million jobs. The jobs report also shows that the hardest-hit sectors are roaring back, with restaurants and bars adding 194,000 employees in June and the arts, entertainment, and recreation sector adding 74,000 employees. And, the jobs report shows the largest three-month increase in earnings in the history of the series, going back to 2006, outside of the pandemic.
The Congressional Budget Office released a revised economic outlook, projecting strong economic growth, declining unemployment and deficit projections, and rising wages. On Thursday, CBO revised its February projection for 2021 economic growth, from 3.7% to 7.4%. The CBO also revised its February projection for 2021 unemployment, from 5.7% to 5.5%. Critically, CBO expects the unemployment rate to reach 4.6 percent by the end of the year and to essentially return to its pre-pandemic level by the end of 2022. Lastly, CBO is projecting real wage growth this year, in addition to in 2022 and 2023. CBO cites three factors for the improved projections: (1) Fiscal policy like the American Rescue Plan boosting growth, (2) more rapid reductions in social distancing than expected as a result of our progress in defeating the virus, and (3) savings households accumulated during the pandemic flowing through to the economy.
Unemployment Insurance claims plummeted this week compared to last, and the four-week average remains below 400,000 new claims after more than a year straight – since March 2020 – above that mark. When President Biden took office, over 800,000 new unemployment claims were being filed every week on average. Now, that number has been more than halved – to 364,000.
The Conference Board's Consumer Confidence Index – a measure of consumers' assessments of the economy – is at its highest level since March 2020. The Index increased from 120 in May to 127.3 in June, exceeding consensus expectations of 119.0. This latest increase in June marks the fourth straight month of gains, as Americans continue to feel the results of President Biden's historic economic and health plans. A record level of consumers see the jobs market improving, as the share of consumers saying jobs are plentiful increased to a 21-year high of 54.4%. The labor differential – the difference between consumers who say that jobs are plentiful and those who say jobs are hard to get – is at its highest since 2000, too.
The Wall Street Journal reports that business spending is "now higher than its pre-pandemic peak," demonstrating increasing confidence and laying the foundation for a strong recovery. Strong business investment suggests the current economic recovery is building a sustainable base for the medium to long term. While consumer spending, bolstered by the Biden-Harris Administration's aggressive fiscal stimulus response to the pandemic, is driving the recovery right now, ongoing capital investment "will be key to ensuring that the recovery maintains strength" by increasing economy-wide productivity. The analysis also notes that, "Company executives are increasingly confident in the economy's trajectory: The Business Roundtable's economic outlook index… increased by nine points in the second quarter to 116, just below 2018's record high."
The International Monetary Fund issued a Concluding Statement projecting 7 percent GDP growth, "the fastest pace in a generation." According to the IMF, "this strong economic performance should continue into 2022, with growth of around 5%." Last year, the IMF projected U.S. unemployment of 7.4% in 2021 and 5.7% in 2022. This week, those estimates were revised down to 4.4% and 3.1% respectively.
Looking forward, President Biden has continued to work to advance the Bipartisan Infrastructure Framework, delivering on his promise to find common ground to get things done.
The Bipartisan Infrastructure Framework would be the largest long-term investment in our infrastructure and competitiveness in nearly a century. The $1.2 trillion Plan is critical step in implementing President Biden's Build Back Better vision, and will make the economy more sustainable, resilient, and just. The Plan makes transformational investments in clean transportation infrastructure, clean water infrastructure, universal broadband infrastructure, clean power infrastructure, remediation of legacy pollution, and climate resilience. Cumulatively across these areas, the Framework invests two-thirds of the resources that the President proposed in his American Jobs Plan.
This week, President Biden penned an op-ed in Yahoo News highlighting his support for the Bipartisan Infrastructure Framework. President Biden writes that, "the Infrastructure Deal is part of my economic strategy that, taken as a whole, will help create millions of jobs for years to come and add trillions of dollars in economic growth" and that "we are going to get all of this done without raising taxes one single cent on Americans who earn less than $400,000 a year."
This week, the Biden-Harris Administration released state-by-state factsheets underscoring how much of the country has suffered from a systemic lack of investment and explaining how the Bipartisan Infrastructure Framework will deliver for the American people. As Bloomberg's Jennifer Epstein writes, "the factsheets highlight states' needs for improving water quality and expanding broadband internet" as well as repairing and rebuilding our roads and bridges, improving public transportation, and upgrading our power infrastructure. From Georgia and Michigan to Wisconsin and New Hampshire, the investments included in the Bipartisan Infrastructure Framework are critically needed.
Market data and economic analysis from this week indicates that supply chain disruptions are improving and inflation is likely transitory
A Goldman Sachs report shows that nearly one-third of core PCE inflation last month was in areas that they categorize as supply-constrained due to transitory factors. The report's authors write that the "current one-off inflationary boost will eventually become a one-off disinflationary drag" and that "the drag from these categories and fading base effects in reopening travel categories" underscore why they "expect core PCE inflation to fall to 3% by end-2021 and 2% by end-2022, even as cyclical categories such as shelter accelerate."
The Congressional Budget Office added its voice to the chorus that we are living through transitory inflation, as the economy gets back on track. This week's Update to the Budget and Economic Outlook estimates that core PCE will rise by 2.8 percent this year, but that "by 2022, increases in supply keep up with increases in demand," leading inflation to fall to 2%, followed by 2.1% inflation through 2025.
Joseph R. Biden, Press Release - This Week We Saw More and More Proof That President Biden's Economic Plan is Working Online by Gerhard Peters and John T. Woolley, The American Presidency Project https://www.presidency.ucsb.edu/node/350674