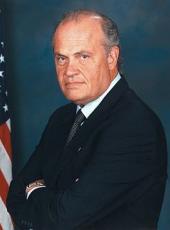 Press Release - They Said It: Iowans and Journalists Agree.....Great Start for Fred Thompson
"[I]f you look at the news coverage -- including in the Post -- the Thompson announcement got top billing. He was also featured as the lead story on the Drudge Report for the entirety of the debate. Kudos too go out to new Thompson communications director Todd Harris who moved a memo moments after the debate ended that read: 'Thompson Already Dominating Campaign Narrative.' Well played." (Chris Cillizza, The Fix at http://blog.washingtonpost.com/thefix/, 9/6/07)
"The outburst [from the Leno audience] seemed genuinely spontaneous, inspired by words that resonate with the pride that Americans feel about their role as the model and inspiration for a free world....Thompson's declaration of freedom had to stir millions of viewers across the nation." (Dennis Byrne, RealClearPolitics.com, 9/6/07)
"Even before his formal announcement, Mr. Thompson had risen to second in many national polls of Republican voters, just behind former New York Mayor Rudy Giuliani. And rival campaigns see him as a serious threat. 'Thompson has the potential to be the real deal,' says Rich Bond, a former chairman of the Republican National Committee, who is supporting Arizona Sen. John McCain's presidential bid." (Amy Schatz, Wall Street Journal, 9/6/07).
"Thompson struck a chord about electability in yesterday's online announcement of his candidacy, saying that he could attract voters from across the political spectrum and could prevent the election of Senator Hillary Clinton of New York." (Michael Kranish, Boston Globe, 9/7/07)
"With Senator Thompson's official entry into the presidential race, Senator Clinton needs to watch out. Demographics, policies, and personality make Mr. Thompson a formidable opponent, and voters will take him seriously." (Diana Furchtgott-Roth, New York Sun, 9/7/07).
"[Fred Thompson] fits the archetype of a president. Even in his slimmer, Kelsey-Grammerish incarnation, he looks a president. All of this is cliché - so clichéd that you might wonder why it bears repeating. It bears repeating because it's undeniable asset to Thompson, one that will open so many doors to him..." (Marc Ambinder, The Atlantic, 9/6/07)
Fred Thompson, Press Release - They Said It: Iowans and Journalists Agree.....Great Start for Fred Thompson Online by Gerhard Peters and John T. Woolley, The American Presidency Project https://www.presidency.ucsb.edu/node/295304