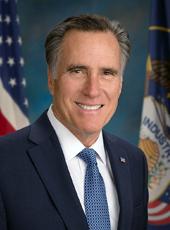 Press Release - The Romney Agenda. Strong. New. Leadership.
Governor Romney On The Senate Immigration Bill:
Governor Romney: "The immigration bill failed because the politicians in Washington are out of touch with the American people. The voice of the people is loud and clear - secure the border, enforce the law and no special deal for permanent residency or citizenship for illegals. America will always welcome legal immigration, but as a nation we also insist on the rule of law." (Romney for President, "Governor Romney On Today's Senate Immigration Vote," Press Release, 6/28/07)
Read The Full Statement Here.
Governor Romney Welcomes Supreme Court Ruling On McCain-Feingold:
Governor Romney: "McCain-Feingold was a poorly-crafted bill. Today's decision restores, in part, to the American people a right critical to their freedom of political participation and expression." (Romney for President, "Governor Mitt Romney Welcomes The Supreme Court Campaign Finance Ruling," Press Release, 6/25/07)
Read The Full Statement Here.
Governor Romney Would Veto Legislation Reviving The Fairness Doctrine:
Governor Romney: "Well, I'd veto it if it ever got to my desk. And I would fight against it vehemently. The effort to try to impose the Fairness Doctrine on radio stations is, if you will, censorship Democrat style. It basically says we're not going to let you keep talking about the things you want to talk about and the market wants to hear." ("Lars Larson Show," 6/28/07)
Listen To Governor Romney's Interview Here.
Governor Romney's Global Initiative For Values And Freedom:
Last Week, Governor Romney Outlined His Global Initiative For Values And Freedom. To defeat the global Jihadist threat, Governor Romney believes we must have a truly global strategy that combines our efforts with others, brings more tools of our national power to bear and implements specific, tailored strategies for every nation at risk. The Global Initiative for Values and Freedom is a comprehensive strategy to defeat radical Jihad, ensure American security and advance freedom and human rights across the globe.
Governor Romney Will Create The Special Partnership Force (SPF) To Mobilize All Elements Of Our National Power To Defeat Jihadists. To meet today's challenges, we must mobilize and integrate all elements of our national power in unstable areas where traditional civilian agencies cannot operate effectively and traditional military power alone cannot succeed. The Special Partnership Force will integrate all elements of national power under a new force with leadership drawn from a core group of our Army Special Forces trained to work with civilian governments and intelligence personnel.
The SPF Will Build On A Long History Of Successful Efforts Against Terrorists And Insurgent Groups. Although a new capability, this force draws on the lessons learned from a long history of successful efforts against terrorist and insurgent groups, including U.S. efforts under the Office of Strategic Services (OSS) in World War II, post-9/11 efforts in Afghanistan, and recent Special Forces efforts in the Philippines.
Read The Full Policy Briefing Here.
Mitt Romney, Press Release - The Romney Agenda. Strong. New. Leadership. Online by Gerhard Peters and John T. Woolley, The American Presidency Project https://www.presidency.ucsb.edu/node/297025