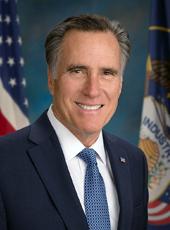 Press Release - The Romney Agenda. Strong. New. Leadership.
Strong Military And A Strong America:
KGAN (Iowa) Anchor: "Romney is in the middle of a three-day visit to Iowa and says he would reverse troop cuts made under the Clinton administration. And he would also increase the military's budget. He says he would increase the size of the military by at least a 100,000 troops. This is part of Romney's Three-Legged Stool philosophy." (KGAN, 6/16/07)
Watch The Full KGAN Report Here.


On Senate Democrat Leader Harry Reid:
Governor Romney: "If He'd Been [At] Valley Forge, He'd Have Thrown In The White Towel And We'd Be Singing As Our National Anthem 'God Save The Queen.'" "Republican presidential candidate Mitt Romney went after U.S. Senate Majority Leader Harry Reid with both rhetorical barrels Friday on Reid's statements that the Iraq war is lost and the troop surge initiative is a failure. 'If he'd been [at] Valley Forge, he'd have thrown in the white towel and we'd be singing as our national anthem "God Save the Queen,"' Romney said." (Pat Kinney, "Romney Criticizes Reid For Stance On Iraq," Mason City [IA] Globe Gazette, 6/16/07)
Watch Governor Romney Blast The Democrat Iraq Mentality Here.
Supporting The Patriot Act:
Governor Romney: The Patriot Act Is "A Useful Tool" For Protecting America. "Responding to a question from the audience, he defended the Bush administration's use of the Patriot Act, which gives the federal government expanded surveillance authority to combat terrorism. He called it 'a useful tool to help us gather information to help protect our society.' ... 'So, intelligence sources, gathering information about who the bad guys are, and where they are, is key.'" (Amy Lorentzen, "Romney Criticizes Democrats On War, Defends Patriot Act," The Associated Press, 6/16/07)
Strong Families And Family Values:
Governor Romney Says The American Family Is "The Source Of America's Strength." "With anecdotes about his five children and help from his wife, Ann, who helped introduce him, Romney discussed family values to paint an optimistic picture of the future. 'Family-oriented American people, God-fearing people who love liberty, who will sacrifice for liberty, that is the source of America's strength,' said Romney. 'It always has been, it always will be.'" (Danny Valentine, "Romney Touts Family Values," Des Moines Register, 6/17/07)
Read The Full Article Here.
On Traditional Marriage:
Governor Romney On Massachusetts Legislature Vote On Marriage Amendment: "Today's vote by the State Legislature is a regrettable setback in our efforts to defend traditional marriage. ... It is now even more important that we pass a Constitutional amendment protecting traditional marriage. Marriage is an institution that goes to the heart of our society, and our leaders can no longer abdicate their responsibility." (Romney For President, "Governor Mitt Romney On The Massachusetts Marriage Amendment," Press Release, 6/14/07)
Read The Full Statement Here.
On Stem Cell Research:
Governor Romney: "It is time to move beyond typical Washington politics, and offer support for stem-cell research techniques that bring science and ethics together to promote life, protect life, and save lives." (Governor Mitt Romney, Op-Ed, "A Stem-Cell Solution," National Review Online, 6/15/07)
Read Governor Romney's Stem-Cell Op-Ed Here.
Read The Full Romney Record Here.
Mitt Romney, Press Release - The Romney Agenda. Strong. New. Leadership. Online by Gerhard Peters and John T. Woolley, The American Presidency Project https://www.presidency.ucsb.edu/node/297020