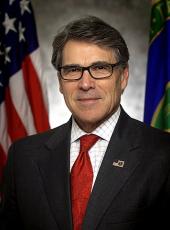 Press Release - The Perry Job Creation Record: Best in the Nation
Government does not create jobs, the private sector creates jobs. What government can do is create an environment that allows the entrepreneurial spirit to flourish. An environment where small business owners feel they have a fair chance to grow their company without interference.
In June of 2011, 32,000 net new jobs were created in Texas—more than any of the other states. From June 2010 to June 2011, Texas led all other states by far, adding 220,000 net new jobs.
The model for success story is proven and clear. Texas' economic climate under Gov. Perry has consistently outperformed Washington's broken model, reaffirming the need for low taxes, responsible spending, fair and predictable regulations, and tort reform.
Recent acclaim for the fiscally conservative model of good government under Gov. Perry's leadership:
"From June 2009 to June 2011 the state added 262,000 jobs, or half of the USA's 524,000 payroll gains, according to the Federal Reserve Bank of Dallas and the Bureau of Labor Statistics."
—USA Today: Texas Bucks National Unemployment Trend (July 25, 2011)
"Mr. Perry is continuing the Reagan tradition of removing senseless roadblocks and allowing free enterprise to do what it does best: hire employees and generate wealth.
During a time when most companies appear to be insecure about adding to their payrolls because of the uncertainty surrounding our economy, this country would be wise to carefully study why Texas employers seem to be largely immune to this insecurity.
In short, the Reagan Revolution is alive and well - deep in the heart of Texas."
—Michael Reagan (June 25, 2011)
"Between 2001 and last June, Texas — a right-to-work state that taxes neither personal income nor capital gains — added more jobs than the other 49 states combined. And since the recovery began two Junes ago, Texas has created 37 percent of America's net new jobs."
—Washington Post: Rick Perry: A Texan's "Exceptionalism" (June 24, 2011)
"Texas notched one of the biggest increases in size in a half-century, surpassing $1 trillion in annual economic output. The state gained nearly a full percentage point in its share of the U.S. economy during the decade, reaching 8.3% in 2010. This growth in economic clout has been matched only twice in the past 50 years — by California in the 1980s and Texas itself during the 1970s oil boom."
—USA Today: Texas Wins in U.S. Economy Shift (June 21, 2011)
"What explains this Lone Star success? Texas is a big state, but its population of 24.7 million isn't that much bigger than the Empire State, about 19.5 million. California is a large state too—36.9 million—and yet it's down 11,400 jobs. Mr. Fisher argues that Texas is doing so well relative to other states precisely because it has rejected the economic model that now prevails in Washington, and we'll second that notion.
Mr. Fisher notes that all states labor under the same Fed monetary policy and interest rates and federal regulation, but all states have not preformed equally well. Texas stands out for its free market and business-friendly climate."
—Wall Street Journal: The Lone Star Jobs Surge (June 10, 2011)
"It's no big secret why Texas has been attracting businesses, while corporations are fleeing California. As Perry told the Golden State visitors, Texas' low taxes and regulatory sanity offer a friendly business climate for companies looking to set up shop."
—Human Events: Gov Rick Perry's Business-Friendly Texas Thriving (May 16, 2011)
"Whatever they are drinking in Texas, other states may want to imbibe. California — which boasted zero regions in the top 150 — is a prime example. Indeed, a group of California officials, led by Lt. Gov. Gavin Newsom, recently trekked to the Lone Star State to learn possible lessons about what drives job creation."
—Forbes (Yahoo! Finance): The Best Cities for Jobs (May 11, 2011)
Help Gov. Perry replace job-stifling government growth with sound fiscal policies and job creation. Let's get America working again!
Rick Perry, Press Release - The Perry Job Creation Record: Best in the Nation Online by Gerhard Peters and John T. Woolley, The American Presidency Project https://www.presidency.ucsb.edu/node/297694