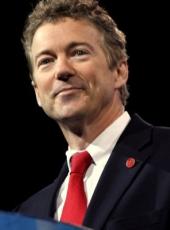 Press Release - The Kentucky Republican Spoke on the Senate Floor Until He Could No Longer Stand. Here's Everything That Happened
By Dustin Volz and Kaveh Waddell
May 20, 2015 - Sen. Rand Paul has just wrapped a ten-and-a-half hour long speech on the Senate floor in what his office called a filibuster against the National Security Agency's surveillance programs, as part of an apparent stand against efforts by some of his Republican colleagues to extend the Patriot Act's expiring spy powers.
"There comes to a time in the history of nations when fear and complacency allow power to accumulate and liberty and privacy to suffer," Paul started. "That time is now. And I will not let the Patriot Act, the most un-patriotic of acts, go unchallenged."
Paul took the podium at 1:18 p.m. and left the floor at 11:49 p.m. Here's what happened, and what's coming next.
12:26 a.m.: A very tired Rand Paul, off the floor, opens up.
After he walked off the Senate floor, the Kentucky senator told reporters he was "tired, voice is worn out, ready to go home."
But Paul didn't feel like his time and energy were for nothing. Business shoes in hand, a weary Paul said "we accomplished something by having, you know, it was kind of nice to have bipartisan support."
Paul said that even though he didn't last until midnight, he still believed he had slowed down the clock by a day on procedural advancement on any Patriot Act reauthorization. But an aide to Senate Majority Leader Mitch McConnell suggested the theatrics matter little. "Cloture on trade would be tomorrow either way. Patriot Act is after that," the aide said.
Because McConnell did not file for cloture by Tuesday evening, it was already unlikely the Senate could act on the Patriot Act before the House goes on recess tomorrow, given the drawn-out parliamentary process of the upper chamber. Unless the Senate is willing to stay in town over the weekend and approve the House-passed Freedom Act, it appears increasingly likely that we are headed for a full expiration of the law's three surveillance authorities, which sunset on June 1.
Paul, while talking to reporters, took a jab at President Obama for not ending the NSA's bulk phone-records program unilaterally. Obama "needs to step up and be a little more of a leader in getting us out of this mess," he said.
Noting support from Sens. Mike Lee and Ted Cruz, his presidential rival, Paul said "We're not exactly [on] the same page but I think we're all opponents of the bulk collection." Both Lee and Cruz support the USA Freedom Act, while Paul says it does not go far enough.
11:49 p.m.: It's over. Thanking his staff, Sen. Rand Paul has relinquished the floor after 10 hours and 30 minutes.
Since Paul didn't speak past midnight, the week's schedule appears to remain unchanged. Earlier in the night, an aide to Senate Majority Leader Mitch McConnell said that if Paul talked into Thursday, it would hold up possible consideration of a Patriot Act extension and throw off the Senate's calendar before breaking for recess.
11:45 p.m.: We're winding down. After Sen. Ted Cruz's fiery speech, a tired Paul took the podium for a final hurrah. "My voice is rapidly leaving, and my bedtime has long since past," he said, before launching into a summary of what he's been saying for almost 10 and a half hours. "Bulk collection must end, and I think we have the votes to end it now," Paul said.
Click here to continue reading the full article: http://www.nationaljournal.com/tech/rand-paul-filibuster-live-blog-20150520
Rand Paul, Press Release - The Kentucky Republican Spoke on the Senate Floor Until He Could No Longer Stand. Here's Everything That Happened Online by Gerhard Peters and John T. Woolley, The American Presidency Project https://www.presidency.ucsb.edu/node/316816