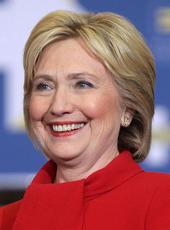 Press Release - The Every County Counts Tour
Clinton & Top Surrogates To Blanket State In 5-Day Tour Reaching All 99 Counties Letting Iowans Know That Hillary's Working For Change, Working For You
The Clinton campaign today announced the "Every County Counts Tour - Working For Change, Working For You," a five-day, 99-county campaign blitz through Iowa that will start on Sunday, December 16th in Council Bluffs. During the tour, Hillary and her surrogates will mobilize and organize supporters across Iowa, while reaching out to undecided caucus-goers. Hillary Clinton, herself, will campaign in 16 counties in the state in a chopper, called the Hill-A-Copter. Top campaign surrogates, including President Bill Clinton and others, will fan across the state to rally Hillary's caucus-goers.
"As I have traveled throughout the state, it has been wonderful to see the energy and enthusiasm that people have for this campaign and our shared vision of how we can change America," said Hillary Clinton. "In the final days before the Iowa Caucuses, I want to tap into that spirit so that every voice is head on caucus night for universal health care, a stronger economy and an end to the war in Iraq."
After kicking off the tour in Council Bluffs, Hillary will also travel to Dunlap and Le Mars on Sunday. On Monday, December 17th, she is expected to make stops in Johnston, Des Moines, Davenport and Johnson County. For the rest of the Every County Counts Tour, Hillary will be in Burlington, Centerville, Clarion, Donnellson, Elkader, Grundy Center, Independence, Osage, Ottumwa, and Tipton.
"For 35 years, Hillary Clinton has worked to produce real change that has improved people's lives. She has a true record as an agent of positive change who knows how to produce results," said Governor Vilsack. "She has the strength and experience not only to win against the Republicans but to bring about the change we need. You can't just demand change or hope for change; you have to work for change and that is exactly what Hillary will do for America."
Hillary Clinton, Press Release - The Every County Counts Tour Online by Gerhard Peters and John T. Woolley, The American Presidency Project https://www.presidency.ucsb.edu/node/292656