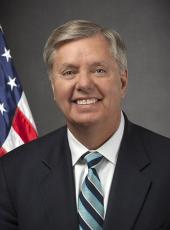 Press Release - The Des Moines Register Editorial: First impression: Gloomy Graham offers tough truths
First impression: Gloomy Graham offers tough truths

By The Register's Editorial

July 2, 2015

The Des Moines Register
The first thing most people notice about Lindsey Graham is his sense of humor, which is both dry and disarming. But the three-term senator from South Carolina can shift quickly and effortlessly from well-worn jokes to an intense discussion of the terrorist threat facing the United States.
His blunt assessment of that threat has repeatedly led to charges that he needlessly resorts to hyperbole to make his point. ("The world is literally about to blow up," he said last year. "The world is exploding in terror and violence ... The world is falling apart," he warned this spring.) But even Graham's detractors admit that as one of the most experienced candidates in a field of 16 Republicans expected to seek the party's nomination for president, Graham's biggest asset may be his willingness to tell voters things they don't want to hear.
With regard to normalized relations with Cuba, for example, he told the Des Moines Register's Editorial Board this week that as president he would not normalize relations with present-day Cuba, despite the negative impact that could have on businesses in Iowa and elsewhere.
"There's something more important here than just making a buck," he said. "If you're doing business here in Iowa, I'm all for that, but you're not going to do business with Cuba until Cuba changes. It's not about money. Money is not everything that's important in this world. I am telling every business in this country that we are not going to do business with dictators as if they are not dictators."
Graham's candor sets him apart from some of his GOP opponents who tend to favor ready-made applause lines over coherent public-policy statements, and he's fully aware that this will put him at a disadvantage with certain voters.
...
Graham is an experienced lawyer who worked for years as a judge advocate in the U.S. Air Force. He says the federal government needs to enact both prison reform as well as sentencing reform, the latter of which he calls an "absolute necessity." Mandatory minimum sentences are part of the problem, he says, because of their impact on urban youth.
"We have too many people in jail, and there are other ways to deal with these crimes rather than just filling up the jails," he said. "And I would improve judicial pay to make sure we can maintain judicial quality ... You want the best and the brightest to leave private practice and go into the judiciary."
Graham also says voters in the 2016 general election should be particularly mindful of the next president's ability to nominate members of the U.S. Supreme Court.
...
Lindsey Graham, Press Release - The Des Moines Register Editorial: First impression: Gloomy Graham offers tough truths Online by Gerhard Peters and John T. Woolley, The American Presidency Project https://www.presidency.ucsb.edu/node/312554