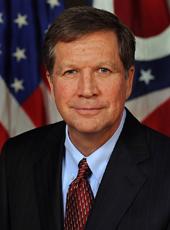 Press Release - The Bow Times Endorses John Kasich for President
Note: "It isn't time for an apprentice."
Governor John Kasich of Ohio has a proven record of turning Ohio around from an $8 billion dollar deficit to a $2 billion dollar surplus. In Congress he led the effort to balance the federal budget and succeeded where everyone else had failed for decades. With 18 years on the Armed Services Committee he understands what it will take to defeat ISIS. And he has campaigned the traditional John McCain way we expect with over 50 town halls, and counting, answering unscripted questions.
A President is under daily scrutiny by the press and public, so what kind of role model he or she presents affects us all – as well as our children and grandchildren. Whether it is the style and polish of a JFK or the gravitas, charm and resolve of a Ronald Reagan it will set a tone for us in the world and for our impressionable young people.

————

[F]or someone who can carry us forward with a clear vision for growing the economy and conducting world affairs, we recommend Ohio Governor John Kasich.
In Ohio, Governor Kasich inherited an $8 billion budget shortfall and just 89 cents in the state's rainy day fund! By putting conservative principles into practice he balanced Ohio's budget and cut taxes by $3 billion, improved education, reduced state government employment and created over 350,000 private sector jobs. In his reelection he carried 86 of Ohio's 88 counties in this must win state for the electoral college if Republicans want to return to the Presidency.
I had the honor of serving in Congress with John and can personally attest that he is a man of ideas, integrity, and enthusiasm. If he says he'll do something he keeps his word, which is very, very rare in the Potomac swamp. I am pleased to join former U.S. Senators Gordon Humphrey and John E. Sununu in supporting John Kasich. With so many choices, voters need to choose Governor Kasich, a candidate they can be proud of and who can unite the party to defeat Hillary Clinton or Bernie Sanders. It isn't time for an apprentice.
To read the full story, click here.
John Kasich, Press Release - The Bow Times Endorses John Kasich for President Online by Gerhard Peters and John T. Woolley, The American Presidency Project https://www.presidency.ucsb.edu/node/313070