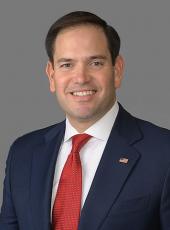 Press Release - That Time When Ronald Reagan Opposed the Idea at the Heart of Ted Cruz's Tax Plan
One of the key parts of Ted Cruz's tax plan is a new Value-Added Tax, which is a hidden tax embraced by big government European countries and liberals in the U.S.


Marco opposes a VAT — and so did President Ronald Reagan.
Watch Reagan in his own words:
Reagan's big reasons for opposing a VAT?

1. It "blindfolded the American people" by hiding the tax.

As Reagan explains, when the American taxpayer doesn't see the "hurt" from taxes, it's easier for liberal politicians to raise them. Cruz's VAT wouldn't show up on income tax returns or sales receipts, but it would hit every American's wages, and raise the price of everything they buy
2. It empowers big government by creating a huge new revenue source.

The U.S. government has never had a VAT before. Lots of European countries do, though.  Having a VAT in addition to income taxes has allowed governments across Europe to explode in size — to the point where in many cases they control way over half of the economy.
3. It infringes on the tax base of state and local governments, who primarily rely on sales taxes to fund their operations.

As a tax on consumption, the VAT is a new way for the federal government to raise revenue, but also one that will be layered on top of state and local sales taxes. That means a really high combined tax rate on everyday purchases in lots of states, higher than in many European countries.
If Ronald Reagan could see the problems with a European-style VAT years ago, why can't some Republicans see them today?
Marco Rubio, Press Release - That Time When Ronald Reagan Opposed the Idea at the Heart of Ted Cruz's Tax Plan Online by Gerhard Peters and John T. Woolley, The American Presidency Project https://www.presidency.ucsb.edu/node/326157