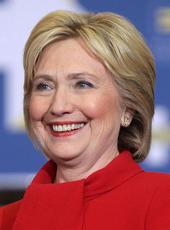 Press Release - Texas Reps. Cuellar, Hinojosa Endorse Clinton
More Than 50 TX Officials And Community Leaders Back Clinton
The Clinton Campaign announced the endorsements of Congressmen Henry Cuellar and Ruben Hinojosa and more than 50 Texas officials and community leaders.
"Senator Clinton is the only candidate with the experience and toughness to hit the ground running on her first day in the White House," Rep. Cuellar said.
"Hillary Clinton is a tested and visionary leader who won't forget about the people of South Texas when she reaches the White House," Rep. Hinojosa said. "Her commitment to expanding educational and economic opportunities for all Americans is unmatched."
"I enthusiastically endorse Hillary Clinton for President of the United States of America," said Carol Alvarado, Houston City Councilwoman and President of the Texas Municipal League. "Hillary has an outstanding record of supporting and including Latinas in the political process. As a Latina leader, I am proud to lend my support to a great American who will be a forceful advocate for my community."
"I am honored to have the support of so many local leaders from across Texas," Clinton said. "With their help, we'll take our message of change across the Lone Star State."
Today's endorsers join Congresswoman Sheila Jackson Lee in supporting Hillary, and illustrate her growing support in the Lone Star State. Yesterday, a poll by the nonpartisan Texas Lyceum found that Clinton is tied with the top GOP contenders in head-to-head matchups and could put Texas in play in a general election. For more on the poll, visit http://www.texaslyceum.org/pollpage.aspx
Leading Texans Endorsing Hillary Today:
Dallas/Ft. Worth/Waco:

Fort Worth City Councilwoman Wendy Davis
Tarrant Constable Sergio De Leon, Fort Worth
Tarrant County Justice of the Peace Sidney Thompson, Ft. Worth
Former Officer Texas Trial Lawyers Dwain Dent, Ft. Worth
Former U.S. Ambassador to Austria Katherine Hall, Dallas
Former President Texas Trial Lawyers Association Debbie Branson, Dallas
Former VP American Association of Justice Frank Branson, Dallas
Former DNC Treasurer Jess Hay, Dallas
State Democratic Executive Committee Member John Pouland, Ft. Worth
Former Chairman of University of Texas Board of Regents Bernard Rapoport, Waco
State Democratic Executive Committeeman Johnny Weaver, Texarkana
Business Leader Craig Hall, Dallas
Houston:

Houston City Councilwoman and President of the Texas Municipal League Carol Alvarado
Former Houston Mayor Lee Brown
Former U.S. Ambassador to the Bahamas Arthur Schechter, Houston
State Senator Mario V. Gallegos Jr., Galena Park
State Representative Hubert Vo, Houston
State Representative Senfronia Thompson, Houston
State Democratic Executive Committeewoman Rose A. Salas, Houston
Former Houston City Councilman Gordon Quan and Sylvia Quan
Texas Young Democrats President Shondra Wygal, Houston
State Democratic Executive Committeeman Lloyd Criss, Galveston
Chairman of the Texas Democratic County Chair Association Sharon Teal, Livingston
San Antonio:

Congressman Henry Cuellar, Laredo/San Antonio
Former Governor Dolph Briscoe, Uvalde
State Senator Carlos Uresti, San Antonio
Former U.S. Senator and Congressman Bob Krueger, New Braunfels
State Democratic Executive Committee Co-Parliamentarian Corinne Sabo, San Antonio
National Hispanic Institute Board Member Michael Soto, San Antonio
Business Leader Kate Marmion, Uvalde
Healthcare advocate Celina Peña, San Antonio
Former Marion Mayor Felix Arambula
Former DNC Director of the Base Vote Project Andy Hernandez, San Antonio
Laredo/Corpus Christi:

El Cenizo Mayor Raul Reyes
State Senator Juan "Chuy" Hinojosa, Corpus Christi
State Representative Abel Herrero, Corpus Christi
State Representative Juan Manuel Escobar, Kingsville
State Representative Richard Peña Raymond, Laredo
El Cenizo Commissioner Lesley Gonzalez
El Cenizo Commissioner Noe Hernandez
Austin:

Austin City Councilwoman Jennifer Kim
Former Land Commissioner Garry Mauro, Austin
Business Leader Roy Spence, Austin
Dolph Briscoe IV, Austin
McAllen/Brownsville:

Congressman Ruben Hinojosa, Rio Grande Valley
Brownsville Commissioner and Mayor Pro Tem Sally Arroyo
State Representative Rene Oliveira, Brownsville
State Representative Veronica Gonzales, McAllen
State Representative Armando Martinez, Weslaco
State Representative Aaron Peña, Edinburg
Hidalgo County District Clerk Laura Hinojosa, Edinburg
Former Hidalgo County Judge Ramon Garcia, McAllen
State Democratic Executive Committeewoman Rosalie Weisfeld, McAllen
South Texas Tejano Democrats Chair Victor Garza, Edinburg
Businessman Alonzo Cantu, McAllen
Former Hidalgo County Democratic Chair R.D. "Bobby" Guerra, McAllen
El Paso:

State Representative Vicente "Chente" Quintanilla, El Paso
Hillary Clinton, Press Release - Texas Reps. Cuellar, Hinojosa Endorse Clinton Online by Gerhard Peters and John T. Woolley, The American Presidency Project https://www.presidency.ucsb.edu/node/292650