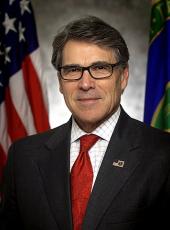 Press Release - Texas Gov. Rick Perry: It Is Time to Get America Working Again
Perry Begins Iowa Campaign, Will Barnstorm State for Three Days
WATERLOO, IOWA — Texas Gov. Rick Perry brought his presidential campaign to Iowa today, just one day after launching his bid for the presidency. Perry's three-day visit takes him to Waterloo today; the State Fair in Des Moines on Monday, in addition to visits to Iowa City and Cedar Rapids, and; stops in Cedar Rapids, Dubuque and Walcott on Tuesday.
"Because I have immense respect for the Iowa Caucuses, and the role you play in vetting the candidates for the rest of the nation, you can bet I will campaign in this state like my life depended upon it," said Perry.
"It is time to get America working again. It is time for Americans to believe again — to believe that the promise of our future is far greater than even the best days of our past. It is time to believe again in the potential of private enterprise, set free from the shackles of an overbearing federal government. And it is time to truly restore our standing in the world and renew our faith in freedom as the best hope of peace in a world beset with strife."
Perry underscored the urgent need for new leadership in light of the continued uncertainty and instability in the U.S. economy, continued overreach by an increasingly intrusive federal government into the lives of Americans and the rights of the states, and the misguided policies that are harming the future prosperity of our country.
"One in six work-eligible Americans cannot find a full-time job," Perry continued. "That is not a recovery, that is an economic disaster."
Joined by his wife, Anita, and their two children Griffin and Sydney, Perry talked about his experience running for Commissioner of Agriculture in Texas twice, saying, "I spent a lot of time traveling to small town diners, potluck suppers and pretty much anywhere two or more voters gathered together." He said he would do the same in Iowa.
In Waterloo, Perry defended the Tea Party message, voicing his frustration with the federal government's out of control spending and failed economic policies. "We're indignant about a government that borrows trillions of dollars because they don't have the courage to say no. We're indignant about failed stimulus plans that have prolonged our economic misery. We're indignant that Iowa companies like Rockwell Collins, HNI Corporation and Heartland Express hit their 52-week low on this week's stock market because of our president's failed experiment in Keynesian economics."
Perry spoke not only of the need for new leadership to create jobs, but the need to get serious about federal spending, saying, "Mr. President, you can't win the future by selling it off to foreign creditors."
Last week, that failed leadership, and Barack Obama's tax, spend and borrow agenda, led to the first ever downgrade in the credit rating of the United States.
"In reality, this is just the most recent downgrade," Perry said. "The fact is for nearly three years, President Obama has been downgrading American jobs, downgrading our standing in the world, downgrading our financial stability, downgrading confidence, and downgrading the hope of a better future for our children."
As president, Perry has pledged to get the federal government's fiscal house in order, restore the country's good credit, and repeal Obama's misguided one-size-fits-all government-run health care plan. He also committed to holding government accountable to the taxpayers, and adhering to the fiscally responsible principles that will lead to job creation, and in turn, wealth, while educating and innovating in science, technology, engineering and math to create the jobs and progress needed to get America working again.
"I will work every day to make Washington, D.C. as inconsequential in your lives as I can, and free our families, small businesses and states from a burdensome and costly federal government so they can create, innovate and succeed," he continued. "With the help and courage of the American people, we will get our country working again."
To view the full text of Gov. Rick Perry's announcement speech, and for more information about his record, presidential campaign trail and plan to get America working again, please visit www.rickperry.org.
Rick Perry, Press Release - Texas Gov. Rick Perry: It Is Time to Get America Working Again Online by Gerhard Peters and John T. Woolley, The American Presidency Project https://www.presidency.ucsb.edu/node/297669