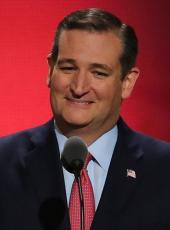 Press Release - Ted on the Trail: Georgia Crowd Shouts "We Want Cruz!"
Ted Cruz Campaigns in Georgia
HOUSTON, Texas – On Friday, U.S. Sen. Ted Cruz, R-Texas, spoke at the Georgia Republican Party's State Convention where he elicited cheers and chants from the delegates in attendance. Some excerpts from the press appear below:
Cobb County Examiner: Ted Cruz invests time at Georgia GOP convention

"Cruz was surrounded by admirers late Saturday afternoon once delegates discovered his staff room on the second floor of the Classic Center in Athens, where the state's GOP convention was being held. A line formed and a crowd gathered to shake his hand, ask him about issues and pose with him for a photo."
Atlanta Journal-Constitution: Crowd Shouts "We Want Cruz!"

"If you had taken a formal straw poll at the weekend's GOP convention, U.S. Sen. Ted Cruz of Texas probably would have won a strong plurality...When Cruz sequestered himself with the press for 45 minutes or so, delegates gathered outside the closed door, shouting "We want Cruz! We want Cruz!"
Atlanta Journal-Constitution: "Ted Cruz says he's the 'proven conservative' in 2016 GOP field"

"While one could hardly mistake Cruz for anything other than a Texan, right down to the cowboy boots he wore with his suit, and he described Georgians as having a lot in common with the people of the Lone Star State, Cruz channeled Missouri's Show Me State mentality in explaining how he would stand out from other primary candidates who have similar messages.
Cobb County Examiner: Cruz Talks Up His Agenda

"Inherent in restoring our nation, Cruz understands there must be underlying moral standards to restore our nation. To re-establish economic growth, he supports a simple flat tax, rolling back burdensome regulations through regulatory reform and repealing Obamacare—"every last word of it." He also said we need positive, patient-centered health care reform."
Atlanta Journal-Constitution: Cruz Fight for Religious Liberty

"It wasn't very long ago that there was bipartisan consensus when it came to religious liberty. Democrats, Republicans – we might disagree on marginal tax rates. But when it came to protecting the First Amendment protections of everyone in America to seek out and worship God with all of our hearts, minds and souls, free of the government getting in the way – we all came together."
Valdosta Today: Cruz Ignites GOP Convention Delegates

"Cruz, a first-term U.S. senator from Texas who announced his run for the GOP presidential nomination in late March, touted himself as a true conservative, someone outside the Republican mainstream who can raise money and draw crowds, and who is part of "a new generation that is stepping forward" in the Republican Party."
Ted Cruz, Press Release - Ted on the Trail: Georgia Crowd Shouts "We Want Cruz!" Online by Gerhard Peters and John T. Woolley, The American Presidency Project https://www.presidency.ucsb.edu/node/315071