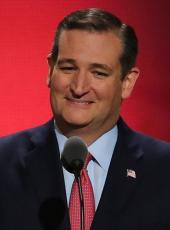 Press Release - Ted on the Trail: Cruz "elicited raucous cheers, fist pumps and even a few 'amens...'"
Sen. Cruz makes first swing through New Hampshire as presidential candidate
HOUSTON, Texas – Yesterday, U.S. Sen. Ted Cruz completed his first swing through New Hampshire as a presidential candidate where he received an enthusiastic welcome from hundreds of New Hampshirites. A roundup of some of the coverage of Sen. Cruz's visit is below:
New Hampshire Union Leader: Sen. Ted Cruz embraces conservative reputation during NH visit

"'Think of the dozen biggest fights we've seen in this country — stopping Obamacare, executive amnesty, fighting to rein in the debt, defending religious liberty, the Second Amendment, stopping Common Core, standing with Israel, stopping Iran from acquiring nuclear weapons,' he said. 'Look at the field, and ask, on the great fights of the day, how many of them have actually led. For most, you can find one issue, maybe two, but for much of the field, they have not been leading on these issues.'"
New York Times: Tailoring His Message, Ted Cruz Makes His First Swing Through New Hampshire

"He elicited raucous cheers, fist pumps and even a few 'amens...'"
Dallas Morning News: Upbeat Ted Cruz embraces outsider label in New Hampshire visit

"Ted Cruz, the first and so far only major candidate for president, swept into New Hampshire on Friday, upbeat and eager to embrace the outsider label he's cultivated since erupting on the national scene three years ago..."
Seacoast Online: Sen. Ted Cruz charms Seacoast Republicans

"'This isn't a matter of right or left,' he said. "'This isn't a matter of Democrat or Republican. This is a matter of common sense and it isn't working. I think millions of Americans are ready to get back to the principles that made America great.'"
Boston Globe: Cruz makes stops in N.H., seeks early primary support

"'In every Republican primary every candidate says he or she is the most conservative,' Cruz said. 'I just think the question that every primary voter should ask themself is: Show me how you follow through.'"
Ted Cruz, Press Release - Ted on the Trail: Cruz "elicited raucous cheers, fist pumps and even a few 'amens...'" Online by Gerhard Peters and John T. Woolley, The American Presidency Project https://www.presidency.ucsb.edu/node/315141