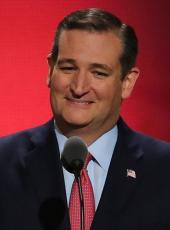 Press Release - Ted on the Trail: Cruz Draws Large Crowds in New Hampshire and Massachusetts
Ted Cruz Campaigns in New Hampshire and Massachusetts
HOUSTON, Texas – Over the weekend, U.S. Sen. Ted Cruz, R-Texas, made several campaign stops across New Hampshire and Massachusetts where it was noted he "drew raucous cheers yesterday from a crowd of hundreds of Bay State voters." Some excerpts from the press appear below:
Boston Herald: Cruz has Mass. appeal during campaign stop

"Texas Sen. Ted Cruz drew raucous cheers yesterday from a crowd of hundreds of Bay State voters gathered at the Andover home of state Rep. Jim Lyons, where the presidential hopeful took shots at presumptive Democratic nominee Hillary Clinton and President Obama...The heavy turnout at Lyons' Highvale Lane home, where some were turned away at the door once maximum capacity was reached, came as a surprise, even to Cruz. 'Who would have predicted 500 people in Andover, Mass.?' Cruz asked before echoing the same mantras that have defined his campaign event appearances in recent months; calling for an overhaul of the Affordable Care Act, Common Core and Obama's approach to foreign policy."
Da Tech Guy Blog: Former NH Speaker Bill O'Brien Supports Cruz

O'Brien: "It's real important that we have a candidate like Ted Cruz who's optimistic, who can show people – by both his background and his commitment, and his understanding of them – that he knows people like them. When he talks about these conservative values, that he will put them into play. Trust is a big issue. I really believe that Senator Ted Cruz will connect with the voters so that they just won't agree with him as they do so often with Republicans on the issues, but they'll agree that he's the best person."
Red Mass Group: Cruz kicks off busy Massachusetts Republican presidential primary

"Cruz made the case for a contested Massachusetts primary near the end of his speech. Cruz said, 'with a date of March 1st, two weeks after South Carolina, Massachusetts is an early primary state.' Cruz further said he would be campaigning in the Bay State...Cruz's campaign has told Red Mass Group that the Senator does in fact plan on campaigning in Massachusetts because of the state's role as an early primary state. The attention paid to Massachusetts this cycle may seem counter intuitive to some, but it is not."
Boston Herald: Cruz: Divide is between Washington and the People

Cruz "argued that the real American divide isn't between the two parties, but between career Washington politicians and the American people. He asked audience members to raise their hands if they're fed up with top Republican brass. 'No one is more frustrated with the Republican leadership in Congress than I,' Cruz said. 'If you think Washington is fundamentally broken ... it's worse.'"
Union Leader: Cruz: USA Freedom Act is "the right thing to do."

"Cruz said he is a co-sponsor of the original USA Freedom Act and hopes it passes the Senate tonight or later in the week. The bipartisan legislation would end the bulk collection of phone records by the government, he said. 'I think that's the right thing to do. I think under the Fourth Amendment, the federal government should not be randomly and indiscriminately collecting people's phone records,' Cruz said. At the same time, the USA Freedom Act leaves law enforcement and national security 'the tools' needed when there is evidence to believe someone is contacting Islamic terrorists, he said."
Ted Cruz, Press Release - Ted on the Trail: Cruz Draws Large Crowds in New Hampshire and Massachusetts Online by Gerhard Peters and John T. Woolley, The American Presidency Project https://www.presidency.ucsb.edu/node/315373